The Remaking Of Johnny Football
February 16th, 2014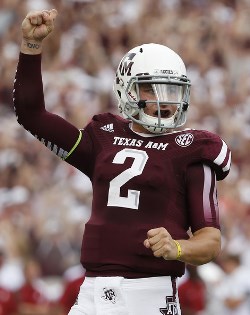 In case you didn't see this excellent story by vaunted NFL scribe John McClain on Johnny Football in the Houston Chronicle over the weekend, anyone who is remotely interested in football should take a peek at it.
Yes, it is about how Johnny Football wants to transform from college wunderkind to NFL stud. He's working out in San Diego with a guy who has helped mold Ben Roethlisberger, Cam Newton and Andrew Luck. But as much as Johnny is working at being a quarterback, he is trying to rework his party-boy, skirt-chasing, liquor-swilling persona.
Manziel calls it his "TMZ" image and claims that is not him.
"I was a kid who made some goofball decisions," he said. "That's been part of my journey. Maybe it's part of the whole Johnny Football deal that I'm trying to get away from. I'm trying to show people I've grown up and I've learned from my experiences. I feel like you're a stupid person if you continue to make the same wrong decisions.

"I don't want to hear, 'Oh, anybody in his situation would have been doing the same thing.' I'm 100 percent responsible for my actions. I want them to know who I really am. I'm going to try to let people know who I really am deep down in my core and that I'm not the guy who does whatever is portrayed on the Internet."
What, someone holds it against Johnny because he walks out of a Los Angeles hotspot into a limo with a busty blonde in tow?
What red-blooded American male would frown upon that? Most general mangers would applaud he's taking a safe ride. Aren't we sick of hearing about jocks who not only have access to free transportation but can also afford limos and cabs getting pulled over for being hammered?
Hell, he should be applauded for that!
So Johnny is selfish? He turned down $350,000 for a radio row appearance at the Super Bowl because it would disrupt his training.
Joe just thinks this guy is horribly painted in a bad light by his haters who for reasons Joe cannot comprehend; they think he's worse than Trent Dilfer, despite what people like Gil Brandt say. There is nothing about Johnny Football that makes Joe cringe; the opposite actually. Does he make mistakes? Yeah, in the offseason. He seems to be learning from those mistakes, not repeating them.
Joe is starting to think the vile hatred of Johnny from folks comes because people are simply flat jealous of him and couldn't pull in college.
Johnny Football would be a massive asset for the Bucs. Now if they can just find a way to get him. That's the trick.