Glennon Is Not About The Stats
February 16th, 2014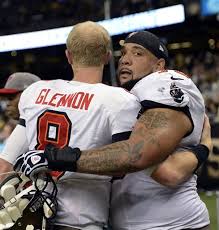 Joe knows many Bucs fans are thoroughly aroused by Mike Glennon's numbers. They'll trumpet his 19 touchdowns versus nine interceptions all day long.
Joe doesn't get it. The stats obsession is mind-boggling, though understandable in our fantasy football culture.
Joe can say with certainty that he never thought Trent Dilfer was a strong quarterback when he threw 21 touchdowns versus 11 interceptions, won 10 games and made the Pro Bowl in 1997. You just can't evaluate a QB strictly based on numbers like so many fans want to do.
On the flip side, this is why you don't see Joe expressing his lack of support for Glennon by writing about Glennon's forgettable December stats line (six touchdowns and five interceptions, 53.5 percent completion rate). Football is rarely all about stats for Joe, especially at quarterback.
Joe bases his evaluation on all aspects of Glennon's play — the things he did and didn't do — and his potential, his "ceiling," as some call it. It's really no slam on Glennon. He looks like a solid third-round pick, which is where he was drafted last year.
As loyal readers here know, Joe also follows the NFL closely, and Joe recently learned about an interesting yet meaningless stat coming out of Washington D.C. The Redskins had a lousy defense last season, but throw out their first three games, and their numbers would have had them ranked ninth in the league. Of course, you can't do that.
Stats have their place and are applied subjectively every day. It's part of what makes the NFL fun. Just don't let the number rule your life.  
Joe will leave you with this recent video from one of the great stats philosophers of all time.