Comparing Mike Glennon And Geno Smith
February 17th, 2014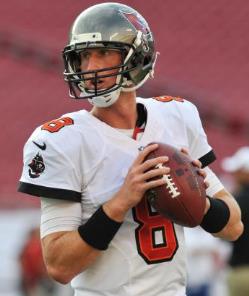 Now Joe is attempting to do something dangerous here. Trying to be objective with numbers.
Joe knows the Mike Glennon Mob likes to point to his fellow rookie quarterback starters EJ Manuel and Geno Smith and say Glennon's numbers were far better. That may be, but Chase Stuart of FootballPerspective.com pulled the onion skin back on the numbers, and while in some respects Glennon was better than Manuel and Smith, in other ways he was worse or similar to Smith.
Among the 35 quarterbacks with the most pass attempts, Glennon finished a very pedestrian 27th in Adjusted Net Yards per Attempt. But he did it in a very unique way: Glennon had an outstanding 19/9 touchdown-to-interception ratio, but he ranked dead last in Net Yards per Attempt. One reason for that is Glennon averaged only 10.6 yards per completion, the 3rd worst average among the 35 passers.

Smith finished 34th in ANY/A, largely due to his horrific 12/21 TD/INT ratio. He was a bit better in NY/A, ranking 28th, but what's interesting about the Jets quarterback is that he ranked 7th in yards per completion. That metric is not a particularly effective measure of passer quality — after all, Matt Ryan ranked 35th — but it is a pretty good way to describe a quarterback's style. While both Glennon and Smith were below average, they were below average in very different ways.
The fact Glennon stunk with net yards per attempt — he was the league's worst; worse than Terrell Pryor, even — tells Joe a few things.
1) Defenses swarmed to Vincent Jackson like sharks to chum and he was rarely open as a result.

2) With Mike Williams lost for half a year with surgery on his hamstring, the Bucs had no other wide receiver that could reliably get open short of busted coverage.

3) The offensive line didn't give Glennon a whole lot of time.

4) Former Bucs commander Greg Schiano had hammered into Glennon's head that if he threw a pick, he would have a toe chopped off. Therefore, unless a receiver was wide, wide open, Glennon was more than content throwing safe checkdown passes. Remember how often on third downs Glennon would throw to receivers well short of the chains? Was this just incompetence by offensive coordinator Mike Sullivan or Glennon just playing it safe because he didn't want Schiano in his face (or both)?
Stuart decided to use both Glennon and Smith's numbers and project them out a few years and. Smith's numbers project him to be Terry Bradshaw. Glennon? His numbers project him to be Bruce Gradkowski.
Joe is getting a hunch that Glennon is going to have to be deprogrammed by new offensive coordinator Jeff Tedford — and then reprogrammed. For young quarterbacks, this screws with their heads. Maybe this is why the Bucs are toying with possibility of bringing in a veteran like Michael Vick?
As Stuart points out, Glennon's forte in college was throwing the ball deep. Strangely, Glennon has shown scant long passes thus far in the NFL.