Stock Up: William Gholston
February 4th, 2014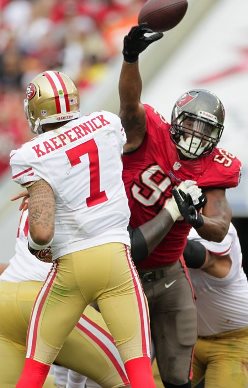 Animals in Joe's neighborhood cowered in fear from Joe's cussing and throwing things over the Bucs' complete and utter inability to get heat on a quarterback. When Joe saw Bucs coaches had defensive end Adrian Clayborn covering Saints running back Darren Sproles, Joe thought for sure the cops were coming with all the glass breaking.
Joe is convinced one reason Team Glazer tapped Lovie Smith for head coach was Lovie convinced them he could develop a pass rush from someone not named Gerald McCoy. A guy that showed flashes late in the season was rookie William Gholston, and he too caught the eyes of the numbers crunchers at Pro Football Focus.
They believe Gholston is a player about to bloom.
Stock Up: William Gholston
The Bucs have been a one-man gang on the defensive line all season long with the outstanding Gerald McCoy getting nothing by way of support from anyone else up front. That was until this month when Gholston put in a trio of excellent performances to open the month. His two-sack game against the Bills will have grabbed some people's attention as an isolated performance, but he backed it up with four hurries against the 49ers and provided strong run defense (+4.8) in those three games as well. The Bucs need Gholston to carry this form in 2014 so McCoy isn't going it alone again.
Joe had a sense from the day Gholston was drafted he would be a dark horse to watch. He started out slow but Gholston, who has the wingspan of a southern live oak tree, showed promise.
Given some solid coaching, Gholston might just be a guy to keep an eye out for come August.