"He's Not A Dirty Player"
February 4th, 2014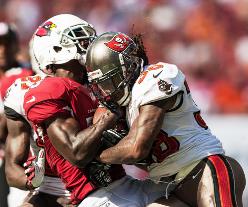 Typically, assistant coaches echo the feelings and thoughts of their head coach. But in the case of Bucs safeties coach Mikal Smith, that probably rings a little more true than usual.
Smith's dad is Lovie Smith.
Joe heard the younger Smith say multiple times at One Buc Palace last week that the Lovie regime has no problem with the what they've seen on film from often-fined, sometimes-suspended safety Dashon Goldson.
Why?
"He's not a dirty player," Mikal Smith said more than once.
Hearing that, Joe strongly suspects Goldson's intent was far more important to Lovie than the end result. When evaluating Goldson, that was an important distinction.
Mikal Smith was confident that Goldson's 2013 experience at the hands of Roger Goodell, plus the coaching of Lovie's staff, will lead Goldson to effectively stay ferocious and relentless while avoiding the unnecessary penalties.
Joe likes what Goldson can bring on the field and believes Goldson and Darrelle Revis absolutely will thrive in a system that won't be stubborn and will set them up for success.
Regardless, the Bucs are stuck Goldson in 2014. Per Rotoworld.com, Goldson will earn $6 million guaranteed this season, plus a $3 million bonus if he makes the roster. Translation: "The Hawk" is a lock to be a Buccaneer this summer. Joe will now take a happy moment to think about what the Bucs secondary will look like if Goldson, Revis and Mark Barron play near their potential.