Sherman: Revis And I Are Good
February 1st, 2014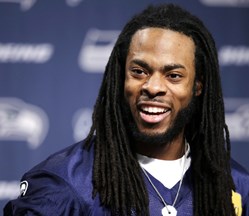 Seahawks lightning rod cornerback Richard Sherman is never one to keep his feelings to himself. He's had two memorable shouting incidents in as many years, once going after Tom Brady after the Seawhawks beat Brady and the Patriots last season and, just two weeks ago, Sherman went all Rowdy Roddy Piper with Erin Andrews and blasted 49ers receiver Michael Crabtree for being "mediocre."
But last year as well, Sherman began chirping that he was the best corner in the NFL and not current Bucs corner and then New York Jets icon Darrelle Revis. It led to a Twitter spat between the two.
But now everything is all good, said Sherman, per Ebenezer Samuel of the New York Daily News. The two star corners have made amends.
"We've had a few conversations. He's a great guy and we squashed all the nonsense," the new, controversy-free Sherman said. "I think every one of them out there is going to say that they're the best, and that's the way you've got to play the position.

"I think one of those things, just like a lot of other things, is a lot of media fabrication more than anything. People make it more of a big deal than it really is. Guys have conversations off the field and are good friends. People would be surprised. They think they're really mortal enemies, and it's really not like that."
Joe likes Sherman but this is nonsense that his quotes were a fabrication. If Sherman wouldn't have spouted off about Revis in the first place, then no one would have ever known there was any friction.
To Revis' credit, he never could understand what prompted Sherman to start talking about him. It doesn't shock Joe the two have kissed and made up. Revis is a good dude and after you get past his bluster, Sherman seems to be a solid guy.