Mixed News On Carl Nicks
February 1st, 2014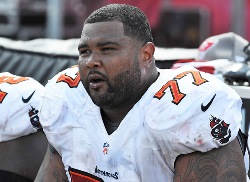 It's great to know the human armoire, Carl Nicks, isn't stuck in bed riddled with the nasty MRSA infection that helped poison him and the Bucs' 2013 season.
And it was great to learn yesterday that Nicks is "rehabbing" daily at One Buc Palace, per the Twittering of beat writer Roy Cummings. But the ugly news is that Nicks is doing any kind of rehab in late January, 10 weeks since he had surgery to remove the recurrence of MRSA in his foot.
Last summer, Nicks told Joe and other Bucs beat writers that his toe/foot problem, the one he had surgery for in 2012, was a permanent situation that was as good as would ever get. Nicks said it could be managed with rest and pain relief, and Nicks said he certainly could play well through it.
In late October, a Bucs player close to Nicks told Joe (in confidence) that Nicks was doing great after his MRSA surgery and was expected back on the field in November.
But Nicks never played again or even returned to practice, and the Bucs never served up details of his condition.
So Joe hearing now that Nicks is "rehabbing" daily isn't as sweet as it appears on the surface. Healthy players aren't part of any team-supervised training this time of year.
Per FOX Sports, the Bucs owe Nix around $6 million guaranteed in 2014, if he's injured. If he's officially considered healthy, the Bucs can move on without consequences from the massive guard with a massive contract.
The super gray area here is Nicks never landing on injured reserve last season. Considering the Bucs put all kinds of guys on IR, including Da'Quan Bowers in Week 17, keeping Nicks on the active roster likely was a maneuver related to not officially declaring Nicks "injured." Therefore, that would give the Bucs a chance to cut him and not pay out the $6 million, though Nicks surely would contest such a move.
Regardless, the Bucs need to fix their offensive line. Their guards didn't produce. Their tackles and center were average at best. And there appears to be no left guard behind Nicks worthy of playing time.
Lovie Smith didn't have much luck building an offensive line in Chicago. This big task is going to fall heavily on new Bucs general manager Jason Licht.