Derrick Brooks' Life May Change Today
February 1st, 2014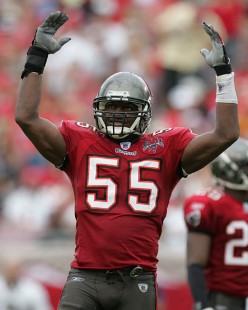 Yes, today is the day — annually, the day before the Super Bowl — where the 40-some voters for the Pro Football Hall of Fame gather to kvetch and whine and holler over just which five of the 15 finalists get into Canton.
One of those men is eye-RAH! Kaufman of the Tampa Tribune. Kaufman, known in NFL circles as the "Custodian of Canton," will be presenting three men with Bucs connections: Derrick Brooks, Father Dungy and John Lynch.
Though the proceedings are supposed to be kept confidential by Pro Football Hall of Fame bylaws, Kaufman gave Joe's good friend, the dean of Tampa Bay sports radio, "The Big Dog," Steve Duemig of WDAE-AM 620, a peek into how he will argue for all three men. In Joe's eyes, the best odds of being introduced as a member of the Class of 2014 will be Brooks.
Kaufman noted that he began working on his presentations last summer. To hear Kaufman explain how he will go about trying to get all three voted in, click the orange button below.