Father Dungy's Supreme Stat
February 1st, 2014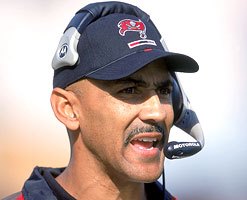 Bucs icons Derrick Brooks, John Lynch and Father Dungy could all be Hall of Famers tonight. The long-awaited vote on the 2014 finalists goes down this evening.
Brooks is a slam dunk, but there's been plenty of healthy debate surrounding Dungy and Lynch.
Yesterday, however, Joe learned of a Dungy statistic that is downright stunning and should land him in Canton. The man charged with presenting Dungy to the Hall of Fame panel, Tampa Tribune scribe eye-RAH! Kaufman, hopped on the WDAE-AM 620 airwaves and explained to Steve Duemig that no coach in NFL history matches Dungy's wins-per-regular-season average.
Dungy recorded 139 victories in 13 seasons, an average of 10.7 annually. If  a coach's job is to win football games, then how can the Hall of Fame deny the head coach possessing that stat?
Kaufman also stated that Dungy's regular-season winning percentage of .668 is sixth best in league history — and the five men ahead of him are in the Hall.
Literally, Dungy's only downfall is a losing record in the postseason (9-10).  Will that be enough to keep him out tonight?