Reading Between QB Tea Leaves
January 13th, 2014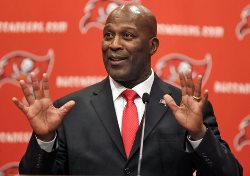 One who believed Bucs commander Greg Schiano should have had his keycard deactivated from One Buc Palace was Tampa Tribune scribe Martin Fennelly. He was not alone, claiming the drama and the circus (along with the accompanying dung of a dreadful two-season record) needed to be swept away.
One problem fixed, Fennelly believes, but a second and nearly as big an open sore still exists. Who the hell is going to quarterback the Bucs to a playoff run?
Joe knows the Mike Glennon Mob will state, "Well, he didn't play bad for a rookie," to which Joe replies, "A rookie, what?" No, Glennon did not play well for a rookie nor for a vet. When he faced decent teams, sans a handful of plays, he looked overwhelmed. There is just no way Joe could stretch or qualify his vocabulary to call that "not bad."
Of all the things Lovie Smith must do to be successful, Fennelly writes, the first is to find or develop a quarterback..
Weren't defense and "running the ball" what Greg Schiano talked about the day he was hired? Isn't the old From There You Need Offense mentality one reason Tony Dungy was fired from here? Or part of why Lovie was let go in Chicago?

Then again, Lovie nearly did the same with Rex Grossman. And he brought then-cutting-edge offensive guy Mike Martz to Chicago. One season, the Bears had the second-ranked offense in football, way ahead of any of Dungy's Bucs teams. And Jeff Tedford is a quarterbacks guy.

But go back to something else Lovie said, right after " … From there, you need offense." He said: "Right now, in the playoffs, it's a lot about the quarterback now — 'We're an evenly matched team, and we need that guy to do something there.' "

Bingo.
(Joe must note that Lovie Smith's offense was never ranked higher than 15th in Chicago, based on the traditional NFL rankings. Fennelly is referencing the Bears scoring the second-most points in the NFL in 2006, their Super Bowl season. However, that number includes a whopping eight touchdowns from the Bears defense and special teams.)
As Fennelly pointed out, there was no dog quarterback playing this past weekend. No quarterback that required you to somehow mangle the King's English to qualify some twisted version of "good." Virtually no question marks.
Bucs fans would have given their left testicle foreach and every quarterback playing this weekend.
Joe is sorry, but he simply cannot envision Mike Glennon leading the Bucs to the divisional playoffs, barring the new GM loading the Bucs offense with a virtual sea of Pro Bowlers. This just in: stocking the roster that much is a good two or three years away.
Joe reads all over the place that the Bucs are a talented lot and primed to win now. If so, that roster shouldn't be dragged down by a void at its most important position.
Everyone knows the only way the Bucs can get an established, quality quarterback is to pay a king's ransom and mortgage the future (provided any owner is stupid enough to let go of said quarterback). So if Lovie wants a quarterback and he doesn't think Glennon can lead the Bucs to January play, then the new GM better work the phones preparing for a trade.
Look, unless the Bucs plan to blow up the team and stink out loud to set themselves up for the 2015 draft, Jameis Winston isn't walking through the front gate of One Buc Palace.