Pewter Report Prediction: Bucs 7-9 In '14
January 12th, 2014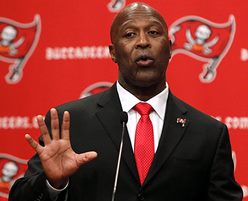 Those unpredictable writers over at PewterReport.com have been busy preparing end-of the-year Bucs awards and things of that nature that don't interest Joe.
However, their preliminary call on the 2014 season got Joe's attention.
They believe the new Lovie Smith regime will sputter in its opening campaign.
EARLY PROJECTION FOR 2014
Tampa Bay will have a 7-9 record
New head coach Lovie Smith inherits a talented Tampa Bay team that was banged up in 2013 with a league-high 16 players ending their seasons on injured reserve. The defensive side of the ball is more talented than the offense, and there are two huge question marks with the offensive line and at the quarterback position entering the 2014 season. The O-line underperformed last year and while Glennon was solid during his rookie season, the team has some questions about his lack of escapability against the blitz and his ability as a playmaker. Smith may seek upgrades along the line as well as finding a challenger for Glennon at the quarterback spot this year. The fact that the team will be adjusting to new offensive and defensive schemes and will have a lot of players still rehabbing from season-ending injuries means that progressed in 2014 may be slowed. Include the fact that the Bucs will still be figuring out its quarterback situation for the foreseeable future, and plays in the rugged NFC South division and a three-win improvement and a 7-9 record may be seen as a successful season in Tampa Bay.
Now Joe would never think of making such an early projection for any team. Heck, there's a good chance half the Bucs roster is different next season. Andy Reid changed 30 or so players when he took over in Kansas City.
But Joe will play along for the sake of discussion.
Lovie stated recently that having a great defense, one that forces a lot of turnovers, will deliver an eight-win season. Add great special teams to that, Lovie said, and you've got a 10-win team. Now Joe trusts Lovie with the Bucs defense implicitly, and the Bucs have plenty of talent right now. Their defense should be great, so Joe would have to project eight wins in 2014, based on Lovie's comment alone.
Regardless, the Bucs have much work to do to reach greatness. Lovie's got a couple of years to hash it out before a raging hot seat is substituted for his comfy office chair.