Preparing To Clean House
January 13th, 2014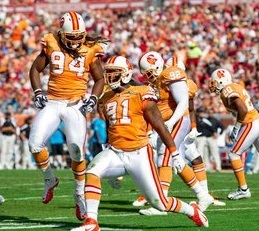 Joe finds it somewhat comical when he hears Bucs fans talk about how Lovie Smith is going to revive players w, x, y and z. Insert whatever names you want (outside of a select handful), but there is no assurance those players will be in Tampa next September.
The only sure thing is that Lovie is going to clean house.
Lovie is old school and firmly believes in the game being fought in the trenches. Joe would not be surprised to see the Bucs completely blow up the starting offensive and defensive lines, with Gerald McCoy and Donald Penn being lone exceptions — McCoy for obvious reasons, and Penn because he's extremely durable and left tackle is not a position where you want to gamble. Of course, the Bucs could hand over the job to a blue-chip rookie like Texas A&M's Jake Matthews.
Those who think Lovie will do wonders for Adrian Clayborn and DaQuan Bowers need to realize Lovie isn't here to fix the Greg Schiano regime and the holdovers from the Raheem Morris era. Maybe they stay, but Lovie's here to build his own brand of Lovieball — with Team Glazer's full blessing. Clayborn and Bowers are going to be fighting for snaps, if they're here at all.
Akeem Spence and William Gholston? They're younger, healthier, stronger and have a lot more inexpensive seasons on their contracts than Bowers and Clayborn.
Andy Reid changed well over half the Chiefs roster when he arrived in Kansas City last offseason. Even Chucky brought in a load of fresh bodies when he took over the Bucs. It's what new coaches do.
As Derrick Brooks says, coaches gotta pluck the weeds; but they also want lots of fresh flowers.
Bucs fans seem to like the current stable of running backs, but Joe wouldn't be surprised to see Lovie prefer more experience, versatility and proven durability in his backfield around Doug Martin, and an upgrade at fullback.
Maybe new offensive coordinator Jeff Tedford sees Tim Wright as too small to hold up as a tight end and wants him as a receiver, and the Bucs start the season with three new tight ends.
Just don't get too comfortable. You don't need more than two hands and a foot to count the Buccaneers who are truly safe and sound for 2014.