Johnny Football And The Bucs
January 9th, 2014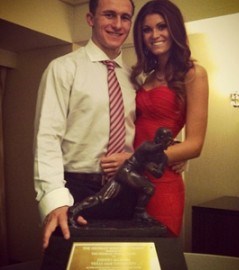 Well, it is official. Yesterday, Johnny Football told the world what the world expected to hear; Johnny Football declared he'll enter the 2014 NFL draft in May.
And the Bucs have a high draft pick.
And the Bucs need a quarterback.
And Bucs fans have been pining for something exciting.
Lou Holtz said Johnny Football is the most exciting player he has seen since Roger Staubach. (When is Holtz going to learn that the name of the cat who coaches Florida State is not "Jumbo?")
Man, Joe wants the Bucs to draft Johnny Football so bad Joe can just taste the cold beer. But will it happen? ESPN's Pat Yasinskas decides to peel back the onion skins to see if there is a shot the Bucs land Johnny Football.
The personnel people I talk to are all over the board on Manziel. Some say he's a legitimate first-round pick and others have concerns, mostly about his size.

Like every other team in the league, the Bucs will at least do some homework on Manziel. But the first thing Tampa Bay's new administration has to do is make a determination on whether Mike Glennon is in the plans at quarterback.

Coach Lovie Smith and whoever ends up as general manager are in a draft spot where they could end up with a franchise quarterback. They need to figure out if Glennon or Manziel can be that guy.
Look, Joe has absolutely nothing against Bucs quarterback Mike Glennon at all. A nicer guy you may not find. But again, when you have the fourth-best quarterback in a four-team division in a passing league, you are painted into a corner.
At least with Johnny Football, you have a guy with a high ceiling who very well could become as good as Matty Ice or perhaps Cam Newton. Joe may love Johnny Football, but he is not so drunk to think Johnny Football could match Drew Brees. Let's not get carried away.