Wootton Watch In Chicago
January 8th, 2014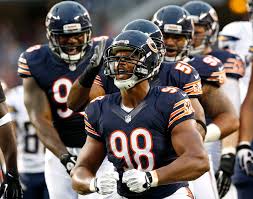 Gerald McCoy could sure use a guy to rotate in and give him a break once in a while. That would a be a great way to keep McCoy fresh and likely make him more effective.
McCoy missed a load of games while injured during his first two seasons. But it seemed like the back-to-back Pro Bowler was making up for lost snaps under the New Schiano Order.
McCoy rarely came off the field the past two seasons.
 He played an extraordinary percentage of snaps, often against double-teams.
Joe remembers McCoy getting a blow against the 49ers or Rams, and Buccaneers Radio Network radio analyst Dave Moore noting just how rare that was to see. Perhaps that was because McCoy had no serviceable backup.
Regardless, it's silly to think Lovie Smith is going to continue that trend and/or not have a backup engine. "Engine" was the word Lovie used a few times this week to describe what McCoy will mean to his defense.
Joe found it interesting to read on a good Bears blog called "beargoggleon.com" that the one guy the Bears analyst doesn't want to lose to the Bucs and Lovie is versatile defensive lineman Corey Wootton. The free-agent-to-be was a fourth-round pick of the Bears in 2010. Wootton had seven sacks for Lovie in a part-time role in 2012, and he plays McCoy's position, as well.
I do think that Lovie will be looking at a lot of free agents coming off the Bears roster to put in key spots on his squad.  The Bucs will have ample cap space to be able to make some moves and outbid the Bears for guys they might want to keep.  Obvious targets for Lovie will be Charles Tillman, Henry Melton, Corey Wootton and Devin Hester.  Of that list, the only keeper the Bears should be worried about is Wootton.  Wootton is a young pass rusher who's showed versatility to move inside and play a little 3-technique in a pinch.

Of course I'd like to keep Tillman, but I feel like his best days are behind him and Lovie will be willing to overpay to bring one of his guys into that Tampa locker room and help implement his system on the field.   Lovie's defense is about taking the ball away and there's no one better in the business at doing that than Tillman.
Joe agrees Lovie will look to bring in some of his former defensive players, guys he trusts who can still play and be potential leaders in Tampa.
Wootton, 26, seems like a strong fit. He won't cost too much and would provide great depth and competition. Plus the Bucs would still be free to pursue/sign Jared Allen, Greg Hardy or whatever pass rusher they might be seeking when the free agency bell rings in March.
Nobody thinks Lovie will stand pat with Da'Quan Bowers, Adrian Clayborn and Will Gholston. Right?