Savior Sparano?
January 9th, 2014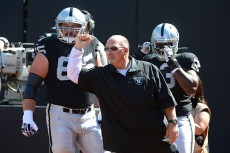 Entering this past season, Joe had an unhealthy obsession with how former Bucs offensive coordinators Greg Olson and Mike Shula would fare with their respective new offenses in Oakland and Carolina, respectively.
Joe couldn't believe those guys were hired to run NFL offenses again. Shula was dreadful as a young man running the Bucs offense under Tony Dungy and, well, the Benn'd Around and other 2011 nonsense by Olson should have had college teams questioning his sanity.
So Joe paid quite a bit of attention to what went on in Oakland, where new Bucs offensive line coach Tony Sparano was hired to fill the same job there last season.
There was all kinds of talk in Raider nation about how their zone-blocking scheme of 2012 screwed up the team and running back Darren McFadden, and Olson was coming to restore a power-running game with Sparano leading the way. 
If you remember, the Bucs went zone-blocking in 2009, when Raheem Morris' regime launched. But offensive coordinator Jeff Jagodzinski was fired during the preseason and Olson took the reigns right before that season and slowly brought back a power-running attack over the next couple of years.
Ironically, Olson wanted then O-line coach Pete Mangurian ousted immediately following LeGarrette Blount's dominant 2010 season. (Great timing, huh?) Olson went to his hand-picked offensive line coach Pat Morris and the Bucs' running game collapsed.
But in Oakland last season, Sparano was widely praised for his job with the Raiders' offensive line.
You think losing Carl Nicks was messy in Tampa? The Raiders dealt with seven injuries to their O-line — and that was only midway through the season, noted ESPN.com beat writer Paul Gutierrez.
It began in training camp when left tackle Jared Veldheer underwent surgery on his left triceps. Then guard Tony Bergstrom, the first pick of the Reggie McKenzie/Dennis Allen regime, was lost for the season with a lisfranc injury to his right foot. 

"It just trickles down," Sparano said. "The most that I've seen in a long time." 

Guard Lucas Nix dealt with an ankle sprain and Stefen Wisniewski missed two games with a sprained right knee, though he practiced Wednesday for the first time since injuring it on Sept. 29 against Washington. Right tackle Tony Pashos, who was signed just before the season opener, has dealt with groin and hip issues and did not practice Wednesday, nor did backup center/left guard Andre Gurode, who is nursing a quad injury. 

Rookie second-round draft pick Menelik Watson has been sidelined with calf problems, then knee problems, and then calf problems again. Coach Dennis Allen surmised the Raiders have had Watson for maybe 10 practices total. 

"We have not played with the same unit for two weeks in a row since the third quarter of the Jacksonville game," Sparano said. And that was in Week 2."
All those injuries also led the Raiders to have O-linemen out of position in order to patch together a unit, all while adjusting to Olson's new offense and a learning-on-the-job bad quarterback in Terrelle Pryor, who lost his job to undrafted rookie Matt McGloin.
Sparano only signed a one-year deal in Oakland, where he also was assistant head coach.
Now Sparano is in Tampa hoping to resurrect a talented and disappointing Bucs line that easily was the team's biggest letdown of 2013. Sparano was a center in college and cut his teeth in the NFL as an O-line coach, most notably for Bill Parcells in Dallas. He was a strong hire by Lovie Smith.
Joe can't say whether Lovie will keep the high-paid Bucs offensive line in tact, but Joe is confident Sparano will have massive input and be relied on heavily, from picking players to coaching.