"I Just Started Running"
January 1st, 2014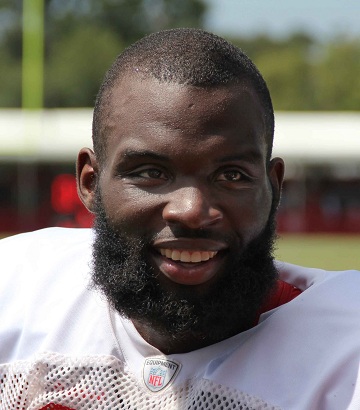 The Bucs missed Mike Williams in 2013. Somewhat surprisingly, he tried to — and was allowed to — play through a difficult hamstring injury and was lost completely for half the season on injured reserve.
Many fans were down on No. 19 after his 2011 campaign (Joe was never in that camp.), but Williams bounced back in 2012, scored a big contract and proved to be a massive loss for the Bucs' historically anemic offense this year.
Williams was among those cleaning out his locker at One Buc Palace on Monday morning.
(Side funny note: For much of the season, Donald Penn used what appeared to be an iPhone charger in Williams' locker. Penn earned a $5 million salary this season plus weight-clause bonuses. He couldn't afford a new charger?) 
In addition to sharing Greg Schiano's now infamous pre-firing endorsement of Mike Glennon as the 2014 starter, Williams also updated his health status after hamstring surgery.
"I just started running a week and a half ago," Williams said. "So like I said, in a couple more weeks I think I'll be good."
Hamstrings are often dicey, but surely not always. Tampa Bay Rays fans saw Evan Longoria return super strong all last year after hamstring surgery. But baseball isn't the NFL.
Enjoy Williams' brief words via the WDAE-AM 620 audio below.