What Is Team Glazer's New "Mandate?"
January 1st, 2014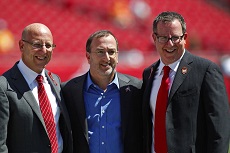 The simple answer to the headline question is, "another Super Bowl." But Team Glazer isn't so simple.
Joe's confident Team Glazer has other clear desires and goals in place, just like when Greg Schiano was given a "mandate" in 2012. 
When Father Dungy arrived, Team Glazer needed him to clean up 13-season mess and restore respect and direction to the franchise.
When Jon Gruden was hired, the goal was a Super Bowl — immediately.
When Raheem Morris was hired, Bucs lore tells us Team Glazer insisted former rockstar general manager Mark Dominik and Raheem Morris give up on Derrick Brooks and assorted veterans, including Jeff Garcia, and develop or land a true franchise quarterback immediately and build through the draft. Dominik allegedly sniffed Jay Cutler and Matt Cassel before deciding on Josh Freeman.
Greg Schiano? The former leader of the New Schiano Order told Steve Duemig that he was given a "mandate" from above.
"We were talking about some of the issues that when I came in as the head coach of the Bucs and, you know, not all of it is on-the-field stuff. A lot of it was stuff that quite frankly was known throughout the league and was, you know, not real good and had to be cleaned up. And that was one of the mandates when I got hired: these are things that had to be fixed and brought back to normalcy. And I set out to do that," Schiano said.
So what's the new mandate?
If Team Glazer sat down/or will sit down/or is sitting down now with Lovie Smith, then what questions do they want answered and what are their demands?
Joe thinks Team Glazer is back to where they were in 2009, when it seemed the edict was to score a QB face of the franchise — immediately.
The Mike Glennon Mob won't like it, but Joe seriously doubts Team Glazer sipped Dom Pérignon and Slivovitz last night while toasting Glennon's future dominance in Tampa. Again, Joe likes Glennon and respects what he did this season in a tough situation, but Joe can't imagine anyone other than Greg Schiano eagerly handing over a team to No. 8.
If the QB question is priority one for Team Glazer, then Lovie's going to need to do one heck of sales job to win the job.