Why Do People Hate Johnny Football?
January 1st, 2014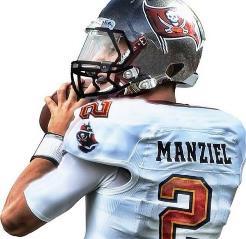 Joe hopes Bucs fans were watching the Chicken Bowl last night on BSPN. Johnny Football was Johnny Football. Needed escapability? He did that. Touch passes from the pocket? He did that. Rifle shots from the pocket? He did that. Needed to make chicken salad out of chicken s(p)it for a touchdown? Oh, he certainly did that.
Johnny Football put on a show that Joe truly hopes resonated with Team Glazer. It was nothing Johnny Football hasn't done all through his two years in college where he threw for over 7,000 yards.
Yet Joe was blasted that Johnny Football is too short. Really? Here's just a few NFL quarterbacks that Johnny Football is taller than: Drew Brees, Russell Wilson, Joe Theisman and Fran Tarkenton.
Yeah, being short really shot their careers down, huh?
Then Joe hears people whining Johnny Football doesn't have a cannon for an arm. Joe can think of all sorts of quarterbacks who couldn't wing the ball downfield like Doug Williams but were damned good quarterbacks.
Joe's favorite excuse is that Johnny Football is immature. Really? Are you his mother? Exactly how is he immature? Where are these complaints coming from? His teammates? Joe has never heard any speak ill of him. Seems to Joe he's a leader. That's not exactly the sign of immaturity.
Oh, but the haters say Johnny Football parties. Really? You mean like most 21-year olds? He likes to have a few cold beers now and then? Likes to chase skirts? The nerve!
As long-time commenter "Eric" wrote yesterday, he's in his 50s and he likes to chase tail and pound beers, too.
Johnny Football may like to party, but at the end of the day, Johnny Football produces. That's the key.
Let Joe put it this way for all the Johnny Football haters who are suddenly hung up on measurables: The Bucs drafted a quarterback in the first round in 2009 who had a Howitzer for an arm and was a defensive end-sized lad who was also an introvert, physically and emotionally, the direct opposite of Johnny Football.
How did that work out?