"Yuccaneer Form"
December 3rd, 2013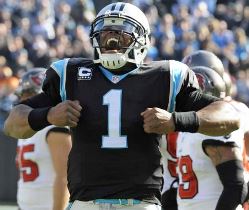 Yes, before Warren Sapp and Derrick Brooks and John Lynch blossomed in the late 1990s, the Bucs were so horrid they were commonly referred to as the "Yucs," or in the long-form, "Yuccaneers."
That is because there were few if any franchise more misguided, inept and running amok, save Bill Bidwill's flock, than the Bucs.
Watching tape of the Bucs' loss to the Stinking Panthers made longtime NFL writer Mike Freeman think of those old days of the Yucs as they were completely bullied by the Stinking Panthers for the Bucs' ninth loss of the season.
In his weekly grades for each NFL team, Freeman — no relation to leaky Rip Van Freeman — branded the Bucs with a "D."
Turned the ball over twice, and quarterback Mike Glennon was sacked five times. The Panthers will do that to a lot of teams, but the Buccaneers still reverted back to Yuccaneer form.
Joe guesses this will outrage some Bucs fans. Well, there is one way to change such perceptions. That is very, very, very simple and elementary. Win games.
Notice that the pitchfork was quelled after Bucs commander Greg Schiano's won games?