What Happened To The Offense?
December 3rd, 2013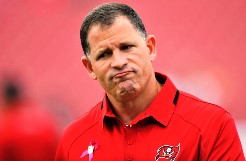 For a while there, Joe was happy. Bucs fans were giddy. It was because the Bucs had an offense that was humming. It was neat to finally see.
First there was rookie quarterback Mike Glennon making a case to be the unchallenged incumbent starter for the 2014 season. Then there was the running game with replacements Mike James and Bobby Rainey.
But the last two weeks, the offense has been, well, virtually invisible, save for a couple of sweet throws from Glennon.
Have NFL defenses figured out Glennon and Rainey?
The answer may be a bit simpler than that, Bucs commander Greg Schiano believes.
"They're both top 10 defenses – Carolina [is] the top defense – but it's the NFL," Schiano said of the past two opponents, Carolina and Detroit. "We've got to find a way to score points and move the ball against whatever defense we're playing against. We need to find better ways to help these guys and then they need to execute better. It's all of us and it starts with me. I need to provide the leadership to our staff and our players to get that done and for whatever reason we didn't get it done the last two weeks offensively; we have to."
The first order of business starts up front. And that is blocking. The Bucs struggled a bit up front against Detroit, but it wasn't terrible. For the most part, the offensive line held its own.
That was not the case last week against Carolina. The Stinking Panthers manhandled the Bucs. It was like an NFL team going up against a MAC team. The Bucs' front line was simply abused.
If you can't block, you likely are not going to run the ball. If you cannot block, your quarterback is going to be running for his life.
Blocking cures a lot of an offense's ills.