Schiano Won't Criticize Defense
December 24th, 2013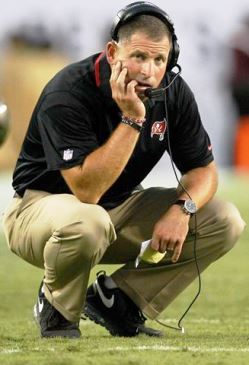 No, Joe can't fault the defense too much in the ragged loss to the Rams. Sure, they let Zac Stacy burn them, but Joe thought Bucs coaches should have put more guys in the box to stop Stacy and force a nobody journeyman like Kellen Clemens to beat them.
When asked Monday whether, given the Bucs offensive offense, he could cast blame on his defense because they pretty much had to pitch a shutout, Schiano wouldn't nibble at the bait or call anyone out. He, instead, stated the loss was a team loss and not on any one unit.
"Criticize I don't do," Schiano said. "Instruct, you know, that's more what I do. There's certain things regardless of what's happening on the – certainly we're struggling offensively, it's not a secret. But our defensive football team knows they have a job to do and they need to do their jobs. So when we don't execute our job or when we don't coach it correctly or when I don't coach it correctly, that's when we evaluate and try to correct. I agree with you that there's not a lot of margin for error. To win – as I said in the San Francisco game, for us to win that game, probably not going to be a 30-something [points scored], maybe not even a 20-something, and the same may have been said [for St. Louis]. I actually, going into the game, thought we were going to move the ball better than we did, I thought we would be able to run the ball better than we did. Obviously we didn't play our best game upfront, but we played one of our lesser games upfront this season, which affected us in the run game as much in the pass game.

"Look at it from pure production though, most of the injuries and most of things have happened to the offensive side. So that's what a team does, they pick each other up."
Joe can see Schiano working here. Joe knows Schiano is frustrated with the offense, irritated at the offensive line. But Schiano isn't going to be throwing people under the bus. Not this time of the year.
Even if Schiano returns next season, it is a foregone conclusion by most reasonable, sober folks that offensive coordinator Mike Sullivan won't return. Schiano isn't going to publicly skin the guy on his way out the door and damage Sullivan's chances of gaining meaningful employment somewhere else.