Report: Schiano Sniffed Penn State
December 23rd, 2013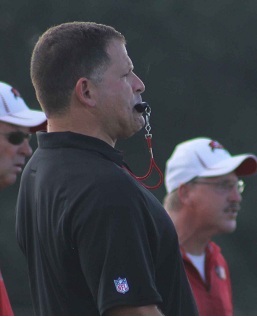 Now here's what Greg Schiano didn't want for Christmas, a report from a reliable source that he showed backhanded interest in the Penn State head coaching job, which potentially could open up next week
Nittany Lions head coach Bill O'Brien has become a hot name in NFL circles for potential vacancies, which, of course, has prompted rumblings of his replacement. Schiano spent years at Penn State as an assistant under Joe Paterno before heading for an assistant gig with the Chicago Bears.
Reporter David Jones, of The Patriot-News in Central Pennsylvania, claims Schiano was among a few coaches to have someone sniff out possibilities for him at Happy Valley. 
Apparently, those worries have eased somewhat not only because recruiting sanctions have been reduced but because of the job O'Brien has done in keeping the program vital. Though I'm told Penn State is not actively lining up any candidates as a contingency in case O'Brien leaves for one of several NFL jobs for which he's a primary target, possible candidates are discreetly having their people contact Penn State to assess the landscape.

Knowledgeable PSU sources have told me at least three other head coaches have had their intermediaries inquire about the Penn State job, curious about the chances it might come open:
Jones went on to say Schiano likely is not high on Penn State's short list. 
Frankly, Joe doesn't think there's much here. Agents inquire about openings all the time — if they're good agents. And Schiano's interest could be as benign as a friend of Schiano's talking to a high-ranking booster over a few Rolling Rock bottles, or whatever bad beer is popular in Pennsylvania farm country these days.