Brutal Third Down Conversion
December 23rd, 2013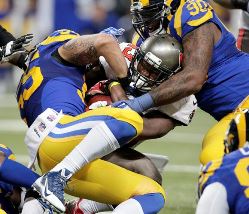 You don't have to listen to BSPN's Lisa Salters to understand if you don't move the chains, you are screwed as a football team.
So, in a manner of speaking, the Bucs were screwed yesterday in a painful loss to the Rams where the Bucs went into winter hibernation in the frosty city along the Mississippi River.
The Bucs took a 7-0 lead in the first quarter and things looked promising, especially how Vincent Jackson hauled in a 30-yard pass and Bobby Rainey ran outside for a score.
After that, the Bucs offense withered under the heat of the Rams defense.
The Bucs converted four third downs in five chances in the first quarter. The Bucs did not convert only one more third down on their first drive of the second quarter.
If you cannot move the chains in the final three quarters of a football game, not only is the team SOL, but the offensive coordinator should be apologizing to the entire team in the locker room.
That is flat out embarrassing and Joe cannot tell you how ill that makes him reading those numbers.