NFL Circles Divided On Schiano Call
December 27th, 2013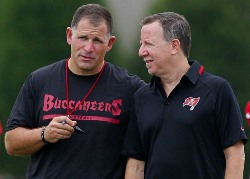 These are exciting times for Bucs fans. Nobody knows whether Bucs commander Greg Schiano will remain at the helm on Monday. Team Glazer has been quiet.
This week, SiriusXM NFL Radio personality Pat Kirwan, the former Jets personnel man and linebackers coach, and current CBS analyst, talked about hearing changing and surprising takes on Schiano's job status.
And today, Sports Illustrated brought more conflict into the debate.
Former Bucs beat writer Don Banks, now an NFL writer for SI.com, weighed in with a look at the various hot seats across the NFL. He says he's hearing Schiano will be back in 2014, but that's more of a slim consensus of his sources.
• Tampa Bay — The sense around the league is that head coach Greg Schiano makes it to 2014 in Tampa Bay. It wasn't a unanimous opinion by any stretch, but the feeling is he's done just enough to fend off his detractors and keep his job. It helped Schiano considerably with the Glazer family, the team's owners, that rookie quarterback Mike Glennon has played pretty well — like the coach told them he would — and that ex-Bucs quarterback Josh Freeman did nothing in Minnesota, after signing there in October.

The Bucs aren't that far away from playoff contention. They have enough talent to win with on defense, but they need more speed on offense and ability to stretch the field vertically in the passing game. That Tampa Bay's players didn't quit on Schiano during the Freeman saga and continued to play hard for him also bodes well. Clearly 2014 shapes up as a must-win season for the Bucs, but it would now register as a surprise if Schiano was out of work at some point next week.

And the same goes for Bucs general manager Mark Dominik, who continues to be perceived as having a solid relationship with the Glazers, despite no playoff trips in his first five seasons heading up Tampa Bay's front office.
Joe has no clue what will happen. In case you missed it on Christmas Day, Joe made a case for Schiano, as well as a case against Schiano.
With things up in the air, it's logical to assume Sunday in New Orleans will be part of the decision-making process. New Orleans has lost three of four game and isn't scoring points like they used to.
If Schiano and the Bucs have made some progress this season, would they really go up there and get their doors blown off?
To make matters more interesting, Joe talked to a prominent media member this week who insists Team Glazer already has made a decision. Joe can't quite buy that. Surely Team Glazer is leaning strongly in one direction, but Joe doubts they're all in either way.