12th Best Defensive Nucleus?
December 27th, 2013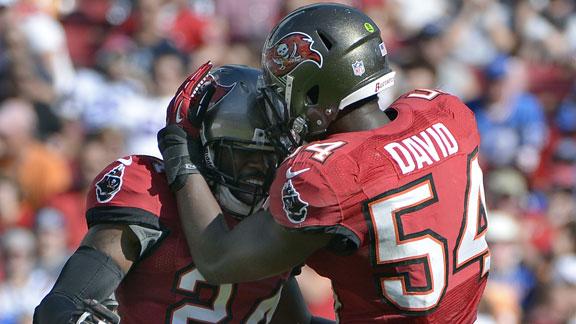 Greg Schiano said recently that the Bucs defense is two players away from being "dominant." He didn't offer more detail, but it's safe to assume he wasn't referring, in part, to the newly-predicted 2014 revival of Da'Quan Bowers.
Chris Wesserling of NFL.com dove into a study of NFL defenses and claims the Bucs have the NFL's 12-best defensive nucleus.
Joe surely would have squeaked the Bucs into the top 10 ahead of Detroit at No. 10 and Buffalo at No. 11.
10. Detroit Lions

The front seven boasts Pro Bowl-caliber talents in Ndamukong Suh, Nick Fairley and DeAndre Levy. That trio is bolstered by Stephen Tulloch as a solid starter and Ziggy Ansah as an intriguing developmental project. As has always been the case under Jim Schwartz and Gunther Cunningham, this defense's Achilles' heel remains coverage at the back end. An infusion of talent is needed at cornerback.
The Bucs are one of the few teams with true young superstars at all three levels of defense — Gerald McCoy, Lavonte David and Darrelle Revis. Those three have legitimate Hall of Fame potential.
There's also Mason Foster, who's at worst very solid, and Dashon Goldson, who should be able to return to his All-Pro form next season if he can figure out how to tackle in Roger Goodell's new NFL. Mark Barron? He'll have a lot to prove in 2014. He's got to stay healthy and improve in order to live up to his lofty draft status. But he's definitely a positive in the team's "defensive nucleus."
The Bucs are pretty darn loaded on defense, minus the critical edge pass rusher.
If Team Glazer is recruiting potential new head coaches, then they surely are touting the array of young talent on defense. There's not a coach out there that would scoff at it.