Late Call Clips Hawk's Wallet
December 27th, 2013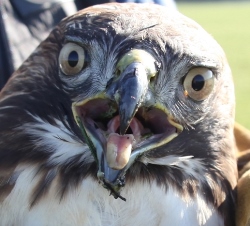 Wednesday afternoon, Dashon Goldson told Joe he was in the clear from Roger Goodell's fine squad for his Sunday hit on Rams wide receiver Stedman Bailey.
"The Hawk" was oh so confident (click above). Well, he spoke too soon. It was revealed today that Goldson was whacked for $60,000.
This is goofy. If this was such a nasty, dangerous hit, then why didn't Goldson get hit with another six-figure fine and a suspension? Either a receiver is "defenseless" or he's not. Fining Goldson $60K is the equivalent of fining Joe a hundred bucks for upsetting readers — annoying, but not enough to change anything.
Someday, a spreadsheet geek will study whether Goldson's handful of penalties are a worthwhile trade-off for having a punishing hitter in the secondary. It sure didn't seem to slow down the 49ers in 2012.