Mike Sullivan's Murky Bucs Future
December 4th, 2013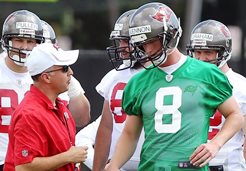 You can look at the performance of Bucs offensive coordinator Mike Sullivan from a few angles.
Sullivan's offense is dreadful beyond any possible excuse in the second half of games this season, but the man did revive Josh Freeman from the depths of 2011 into a guy that set franchise records and was the gunslinger of the NFL's ninth-ranked offense last year.
Sullivan also has shown he can groom a rookie quarterback, Mike Glennon, who could win Rookie of the Year.
But "Sully," as he's known around One Buc Palace, is a guy who has absorbed backhanded shots from Greg Schiano recently, Joe believes. Following the clubbing by the Panthers, Greg Schiano said the following, as transcribed by TampaBay.com.
"We had stuff in the plan and that's why I'm disappointed," Schiano said Monday. "There weren't a lot of times, and (I have been) asked before, 'when do you call that stuff?' I think that's feel. You call it when you feel like it's time to call it. There wasn't a lot of that going on. We didn't really get it rolling other than that first drive. But still, there were opportunities I needed to say, 'let's do it now.' We had stuff in the plan and sometimes that can light a fire on your football team. In retrospect I wish I would've stepped in and said, 'let's do it now.' But I didn't.

"I do think those things do sometimes energize your team."
For Joe, this was the equivalent of Schiano expressing disappointment in his playcaller. Schiano delivered similar style commentary a month ago when he told everyone Glennon was throwing to much, and he, Schiano, needed to assert his authority and make sure the Bucs were more balanced and more committed to the run.
Now Joe's not saying Sullivan is undeserving of criticism, but Joe believes Schiano is very much on the fence about Sullivan remaining in his current job. After all, it was no military secret that Schiano was strongly considering current Bucs quarterbacks coach John McNulty to join his staff in 2012 as offensive coordinator. But McNulty, who was then working for the Cardinals, was not given permission to interview with Tampa Bay.
Joe's already written that a tried and true way to mess up a young quarterback is to replace his offensive coordinator, but Joe doubts Schiano would see it that way if he made the transition to McNulty this offseason. Joe would wager that happens, unless the Bucs' offense has a serious December revival.
And if that December revival comes, then it's likely Sullivan will be in demand as a head coaching candidate, which would further cloud the future. Yes, in that scenario, with the success of three QBs under his belt — Freeman, Glennon and Eli Manning — Sully would be a hot name.