Schiano Second-guessing Himself
December 4th, 2013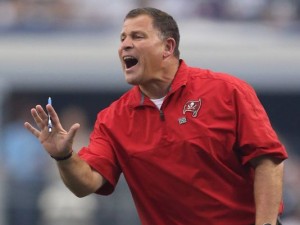 As the Bucs prepare for the bungling Bills this coming Sunday, could the Bucs air it out? It's something to keep in mind when revisiting the words of Bucs commander Greg Schiano on Monday.
Schiano seemed to regret not pulling out a bag of tricks, so to speak, that he had in his hip pocket. They were plays his team had practiced but never used, per Schiano, because he didn't give the plays a green light.
"We didn't really ever get it rolling, but still there was opportunities that I needed to inject a 'Let's do it now' because we had some stuff, like we do every week,'' Schiano said. "I told you we had stuff in the plan and sometimes that can light a fire to your football team and in retrospect I wish I would of stepped in and said 'Let's do it now,' but I didn't. There were a couple of opportunities where I was close to doing it, but I didn't and it wasn't an apprehension or lack of confidence, because I had all the confidence in the world in our guys. I just didn't think the timing was right. It's been my experience when you force that stuff it doesn't really work that well. I just never came to run it, but I do think that those things do sometimes energize your team, but the other thing we have to do is we have to continue to throw the ball down the field because when we do it we're successful."
Might be time to use these plays. As Joe has written numerous times before, though the tea leaves suggest Schiano may return next year, it sure wouldn't hurt to get two (or more) wins to help seal the deal.
Perhaps Schiano not using these plays is an example that Schiano is not panicking and that he thinks his job — for now — is secure?
This should also be a piece of evidence of how, contrary to what some haters will have you believe, Schiano is not calling plays.