Jonathan Casillas Injury Looks Bleak
December 2nd, 2013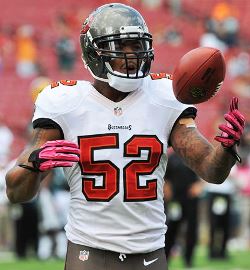 There is no question that the best linebacker for the Bucs is Lavonte David. He is playing at a Pro Bowl level and has been the best linebacker to put on a Bucs uniform since double-nickel, Derrick Brooks, roamed the sidelines.
In Joe's eyes, the next best linebacker is Mason Foster. And not too far behind was a very under-the-radar signing of Jonathan Casillas at outside linebacker. But his immediate future with the Bucs is in jeopardy.
Yesterday, Casillas, who has been playing lights out, blew out his knee and Bucs commander Greg Schiano isn't certain that Casillas will take another snap this season.
This is a major blow to the Bucs who are now very, very razor thin at linebacker. And Casillas was a major special teams contributor.
The Bucs defense, today, just got a bit worse. This is not a good thing to help Schiano to rack up two more wins and secure his job.