When Pressure Matters
December 2nd, 2013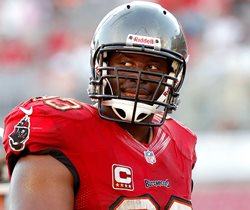 Joe always got a kick out of the little people who would ravage Bucs stud Gerald McCoy for not getting sacks but mock him for disrupting an offense.
These same simple minds apparently believe the lone job of a defensive lineman is to get sacks and nothing else matters.
Well, Joe is here to show you how much nonsense that is.
Below is the handiwork of NFL Network worker bee Ben Fennell, who produces NFL Network's "Playbook," a show devoted to the hidden Xs and Os behind the game. You can follow Fennell and his solid breakdowns on Twitter @TheXOsOfLife.
Now Joe has noted GMC laid a goose egg yesterday. He did. Stats, as always, can lie and hide facts, as Fennell documents. In screengrabs from NFL Films and GameRewind of yesterday's loss to the Stinking Panthers, it is pressure, not sacks, that led to two Cam Newton picks yesterday.
In the first picture, you see GMC is about to bat the ball out of Newton's hand.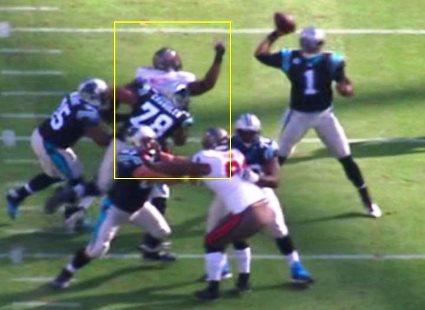 In the second Newton pic, Joe isn't sure who that is in Newton's face (T'eo?) but more than anything else, it illustrates another stupid stunt. You have Adrian Clayborn, the right defensive end, trying to go up the middle and you have tackle Akeem Spence trying to go round the right side. WHY???!!!

At any rate, let this demonstrate that pressure and being disruptive very much matters. While sacks are cool, forcing picks and the Bucs have the ball, while not as sexy, maybe means more.
Remember that the next time you hear someone trying to belittle GMC.