Revis Injury Isn't Serious
December 2nd, 2013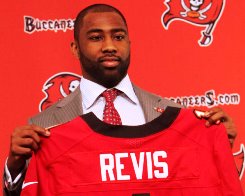 It seems Darrelle Revis' feelings might be hurt more than his chest/shoulder.
Revis dropped a sure interception and was burned for a TD by Ted Ginn, Jr., in Carolina yesterday. The Bucs' $1-million-per-game cornerback left the game after the missed pick with a mysterious chest/shoulder issue that appeared painful.
Speaking moments ago at One Buc Palace, Greg Schiano said the injury to Revis doesn't appear to be serious.
Keep Calm.