Have NFL Hits Caught Up With Jackson?
December 7th, 2013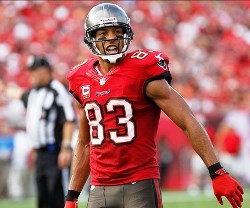 Look, this is no knock on Bucs wide receiver Vincent Jackson. He is questionable to play in Sunday's game against the bungling Bills with a sore hamstring. It likely will hobble Jackson the rest of the season. Hamstrings don't just go away in a few days.
But Bucs commander Greg Schiano said something Friday during his daily press briefing that made Joe's antennae perk up when he spoke about trying to keep Jackson healthy.
"A guy like Vincent can [prepare mostly mentally] because he has so many cumulative reps and he works so hard when he is out there," Schiano said. "My biggest and our biggest job with Vincent is pulling him back during the week. We have to limit his reps because he just goes all out in practice every time he runs a route, and then he finishes the route for about 30 yards and then he runs all the way back. Our biggest thing [wide receivers coach] John Garrett has done a good job of limiting his reps, because we know he's going to go that way, which we love, but limiting his reps so he's ready on Sunday. A week where he doesn't do a lot is actually not a bad thing for Vince as long as the game plan hasn't totally changed where he doesn't know what we're doing, but that's not – we don't do that."
Uh, oh.
When was the last time you heard a Bucs coach limit a key offensive weapon to save his body? That would be Raheem Morris with tight end DJ Toes on the Line, who in his final season with the Bucs (before he paved his way to get thrown off the team by Schiano) was clearly on the downside of his career if not the sunset of his NFL days.
And the Bucs coach before that who did his best to limit snaps for veteran players? That would be Chucky, specifically in his final season with the Bucs. He was smart to do that. The final weeks of his final season showed most of his defense was too old to play effectively for 16 weeks; they could no longer handle the rigors and physical punishment delivered each game for a full season. They simply ran out of gas.
Reading Schiano's comments about Jackson put a chill up Joe's back. Hopefully, limiting Jackson's reps isn't the same reason Morris pulled back on Sgt. Winslow and Chucky rested his 21st Century version of the Over the Hill Gang.