Schiano's Bucs Life Rides On Bills Game?
December 7th, 2013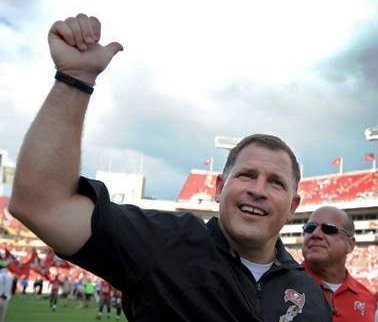 Seemingly shunning (or perhaps embracing?) the rollercoaster perception game of a long NFL season, veteran Tampa Tribune sports columnist Martin Fennelly penned a piece about how he can't imagine Greg Schiano keeping his job if Tampa Bay loses to the Bills Sunday.
Is Fennelly right?
Lose to the Bills and all the recent Kumbayas and "We … are … family" stuff goes out the window. 

Lose to the Bills and Schiano's belated hearts-and-minds tour won't make a dent. 

Schiano is scrambling for traction, because he knows 4-12 and 3-13 don't have much, if any. 

He even did radio with local firebrand Steve Duemig. One Bucs blogger described it as a "powerful landmark interview." Eat your heart out, Frost-Nixon. 

Lose to the Bills … 

You don't lose to the Bills. 

You just got crushed at Carolina. You got crushed, and you can't get crushed again. 

And losing to the Bills would be twice as bad as losing to the Panthers.
Joe can't go all doom and gloom yet, not after the Bucs showed they could beat a good team on the road in Detroit.
San Francisco comes to Tampa on Dec. 15, and the Niners have been inconsistent this season and have just one win against a team currently with a winning record, an October home victory against Arizona. After that, the Bucs head to bumbling St. Louis, led by the immortal Kellen Clemens and his 51 percent completion rate.
Joe just can't arbitrarily circle those games as losses, like Joe does the season finale in New Orleans.
Yes, a loss to Buffalo would have legions of Bucs fans dusting off and mailing those letters to Santa asking for Schiano to get a new job for Christmas, but the head coach would still have plenty of time to soothe the natives with more wins.
Joe would endorse a Schiano return if the Bucs win two more games. Joe could sleep at night knowing the Bucs went 5-3 in the second half of the season against  a brutal schedule. And Joe suspects Team Glazer would be comfortable with the direction of the team in that scenario.
And about those Bills, they're not a good team. They're a team that can't close out games with a rookie quarterback who's up and down and winless on the road.
There are no excuses for the Bucs on Sunday, and Joe expects a victory.