Dominik-Schiano End Was No Surprise
December 30th, 2013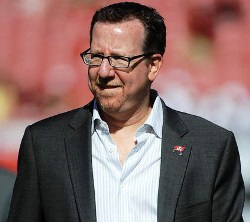 Is anyone stunned out there?
Joe's not.
Team Glazer was not going to tolerate a second-rate quarterback and a second-rate team. That's a toxic combination, unless you like losing and making excuses and hearing chuckles from fellow billionaires at the NFL owners meetings.
Sure, Team Glazer could have granted Greg Schiano another season and demanded change at QB, why do that with a defensive head coach who was leading the NFL's worst offense?
The only reason Team Glazer might have kept the status quo was to save money. Many fans think Team Glazer is cheap. They're not. They acted. Joe gives the credit.
Look for the Glazers to go after what they didn't have in Mark Dominik, Raheem Morris and Greg Schiano — a leadership team with big-time experience. That'll cost them, but it should take the franchise to the next level. There's still a good core of talent in place.