Fired!
December 30th, 2013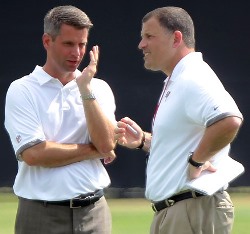 Rockstar general manager Mark Dominik and head coach Greg Schiano have been fired.
Team Glazer has seen enough!
"The results over the past two years have not lived up to our standards and we believe the time has come to find a new direction. Mark has been a valued member of our organization for two decades and we respect the passion he showed for the Buccaneers during his time here. We thank Greg for his hard work and effort the past two seasons, but we feel these moves are necessary in order to achieve our goals," said Buccaneers Co-Chairman Bryan Glazer.
Stick with Joe all through the day for all the regime-change news.