Blame Me, Says Greg Schiano
December 2nd, 2013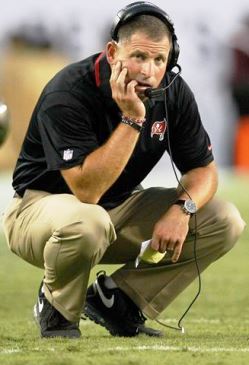 Bucs running back Bobby Rainey touched upon it yesterday after the game when he said the Bucs' running game couldn't get on track because Carolina was doing things the Bucs had not prepared for or seen.
Now, Rainey didn't go into detail what those things were, but Bucs commander Greg Schiano took responsibility, per Pat Yasinskas of ESPN.com, and said point fingers at him, not the players.
"We didn't do enough to help them as coaches and we didn't execute well enough on the field," Schiano said.

Yes, the three-week dynasty that was the Bucs is over. The criticism of Schiano and speculation about his job security are flowing again, and they should be. After winning their previous three games, the Bucs took about six steps back with their worst performance of the season.
Joe doesn't know about six steps back. If Vincent Jackson scores on his long catch from Mike Glennon, who knows what happens. The fact the Stinking Panthers took a three-score lead in the third quarter, Schiano said the Bucs had to then abandon the running game.
If Jackson scores (remember the Bucs got no points despite having 1st-and-goal), the Bucs don't throw the towel in on the running game so early.
Sometimes, you just have to doff your cap to the other team. The Stinking Panthers are one of the best teams in the NFL. They curb-stomped the Bucs' offensive line. That was your ballgame.
Did the Bucs take a step or two backwards? Sure did. They are who we thought they were: a team with a losing record.