Stat Sheet Goose Egg For McCoy
December 2nd, 2013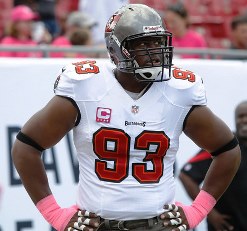 Would this happen to Warren Sapp in his prime?
Perhaps Joe's being unfair comparing Sapp to Gerald McCoy. But, Sapp himself did just that recently, even saying McCoy might be a better player. McCoy also declared on his Buccaneers Radio Network show Wednesday that he could become better than Sapp.
Yesterday against the Stinkin' Panthers, McCoy didn't show up on the traditional stats sheet. That's the first time this season.
It's not all McCoy's fault. When McCoy is asked to perform what might be the most senseless defensive line stunt and blitz Joe's seen in a while (video here), which led to the biggest Panthers play of the game, that's a recipe for failure.
Sure, Joe knows McCoy's job is very much about disruption and setting up others to make plays. But McCoy just didn't have it yesterday. It's most troubling because he's a team captain and it was against a hated division rival.
What's also troubling is the Bucs pass rush is pathetic — 28th in the NFL in sacks — and the run defense has gone from stellar to average.
None of that is all on McCoy. But something has to change along that defensive line. The Panthers "did a lot of double-teaming [of McCoy]," said Bucs radio voice and former tight end Dave Moore.
If McCoy is the player Bucs coaches and many analysts say he is, then the Bucs have to re-build their defensive line around him and/or change the scheme.