Yesterday, Today And Tomorrow
December 2nd, 2013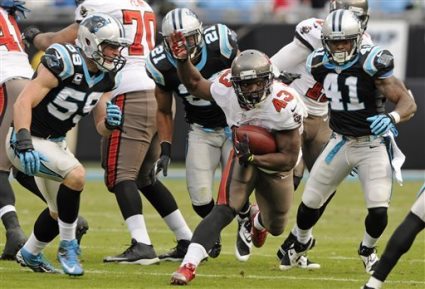 Now we are back to the old quarterback question. Mike Glennon looks more and more like a decent starter in the NFL. He is starting to get better with his long throws; a little inconsistent, but better.
But here's the rub: Glennon is still the worst quarterback in the division. How high of a ceiling does he have? Is he near the ceiling now?
And in a quarterback league, if you have the worst quarterback in your division, how realistic is it to expect a winning season much less a playoff berth?
Joe doesn't think drafting a quarterback in the first round should be off the table. Glennon is Schiano's guy. But will Team Glazer intervene? They don't usually but it has happened in the past. Remember how Chucky was jettisoned, in part, because he wouldn't draft a franchise quarterback? Chucky had a far better NFL resume than Bucs commander Greg Schiano.
Speaking of the draft (coughJohnnyFootballcough), would it be insane for the Bucs to draft a wide receiver, a burner, who can stretch the field? Joe loves Vincent Jackson but at this stage of his career he is like Keyshawn Johnson, dangerous but not a threat to go all the way.
How about in the second round, speedy, tall Wisconsin receiver Jared Abbrederis? You know, someone that has wheels to stretch the field. Often, these guys are found later in the draft and not on the first day.
Offensive Line Woes
Yeah, the offensive line did not have a good day, allowing Glennon to get sacked five times and really not generating much of a rushing game for Bobby Rainey. Instead of piling on the offensive line, Joe thinks it was more that Carolina could have the best front-seven in the NFL. Hey, the other team gets paid too and, sometimes, you just have to doff your cap to the better team.
Still, if Joe had his way, the Bucs should be eyeing Jake Matthews. The offensive line could use some fresh blood. But yeah, Joe knows Bucs rock star general manager Mark Dominik doesn't like drafting offensive linemen.
Controlling The Ball
The Bucs had but 46 plays from scrimmage. You aren't going to win many games by not moving the chains. It is that simple, unless the other team is going to play Santa Claus like Detroit did last week.
The Bucs defense couldn't get off the field on third downs and the Bucs offense could not convert third downs, many of which were third-and-long. If teams win the third down battle, good chance they win games.
Broken Record
Too many stunts and ineffective blitzes resulted in Cam Newton having so much time he could order pizza while in the pocket. [click] Too many stunts and ineffective blitzes result in Cam Newton having so much time he could order pizza while in the pocket. [click] Too many stunts and ineffective blitzes result in Cam Newton having so much time he could order pizza while in the pocket. [click] Too many stunts and ineffective blitzes result in Cam Newton having so much time he could order pizza while in the pocket. [click]
When. Will. You. Freaking. Learn. Bill Sheridan? WHEN? The definition of insanity is repeating the same thing over and over and expecting different results. When Sheridan lets the pass rushers, you know, pass rush, good things happen.
Guess Joe is just going to have to get used to it. If it was going to change, it would have changed by now. (sigh)
Don't Get Fooled Again
Bobby Rainey said the Bucs couldn't run the ball, in part, because Carolina was doing things up front the Bucs had not seen before and didn't expect. Joe is reading a book about Tom Landry (who coached Joe's old high school coach) and the one thing Landry drilled in players' heads was to be prepared for anything and everything.
Now Rainey wasn't specific what the Panthers were doing up front and maybe it was more something he had never seen before. If that's the case, no big deal. You play and you learn. But if the offensive line was getting handled because of being surprised, well, Joe suggests that may be on the coaching staff. The Bucs' offensive line is full of veterans. They shouldn't be surprised by anything.
Still Need Two Wins?
It sure seemed Team Glazer gave Schiano a vote of confidence last week. Joe has been on board that given all the nightmares Schiano had to put up with in August and September, that if he got five wins he would be safe given how hard the team has played.
Where are those two wins going to come from? Buffalo is pretty much a must-win in this scenario. But where is that elusive fifth win of the remaining opponents?
NFL thoughts:
Lions: What a schizophrenic team. One week they cough up the ball five times to the Bucs, four days later they blast the Packers. Of course, the Aaron Rodgers-less Packers.
Cowboys: Joe just isn't impressed. Tony Romo is Peyton Manning lite. Puts up a lot of numbers but cannot be counted on for January.
Crows: What a fun game that was Thanksgiving night. The Crows, Joe thinks, are playoff bound. Snicker at Joe Flacco if you wish, but Joe would take him over Peyton Manning and Romo any day of the week. Yeah, Joe wrote that.
Jags: They are doing their best to blow the top pick in the draft. Not smart. Beating the Browns may say more about the Browns, however, than it does the Jags.
Patriots: Houston gave the Belicheats the scare, but still, we all live in Bill Belicheat's world.
Colts: So Trent Richardson has been benched? Wow. Joe remembers how there were virtual fistfights on Joe's site two years ago about the Bucs trading up to draft him.
Vikings: Matt Cassel pulls out a win in overtime for the Vikings. Matt Cassel! Go ahead, you Freemanites. Say it. Say it! Leslie Frazier has wrecked leaky Rip Van Freeman. Soon, expect stories to surface how Frazier has abused Freeman.
Dolphins: The Jets are in a complete and total freefall. Ryan Tannehill torched the Jets secondary. Guessing Tannehill and his wife had a nice evening last night.
Eagles: Here is your NFC East champ, just watch. This was a nice win by the Fighting Chip Kellys. Holding the Cardinals to three touchdowns is pretty good.
Dixie Chicks: Matty Ice threw for 311 yards. Though Joe is becoming impressed with Bucs rookie quarterback Mike Glennon, the problem persists: The Bucs still have the No. 4 quarterback in the division. Until that changes, don't think about playoffs much less a winning record.
49ers: Just beat the Lambs to a pulp. Vernon Davis went nuts. And when he has a great game, the 49ers often win.
Broncos: The regular season immortal did a good job of torching the Chiefs. The Broncos will win the division and flame out in the playoffs as Manning throws three picks. Just watch.
Bengals: All Andy Dalton does is win and make the playoffs. What a bum, huh? Pretty solid win by the Bengals as the Chargers were playing good ball.
Giants: So they beat the Redskins. Meh.
Non-NFL thoughts:
1) For the first time in 4,810 days, Florida State is ranked No. 1. Welcome back, Noles.
2) Joe is honestly trying to remember a better fourth quarter than Joe watched in the Auburn-Alabama game. Each team was throwing haymakers the whole quarter. And the ending? Couldn't be beat. College football rocks.
3) Joe fully expects Auburn, if it wins against Missouri in the SEC title game – MISSOURI??? – they will face Florida State for the national championship.
4) In what twisted universe do we live in when Missouri – MISSOURI??? – plays in the SEC title game?
5) Joe doesn't buy the "Ohio State doesn't play anyone" nonsense for them not getting into the title game. The same complaint (largely by SEC types) is thrown at Florida State, for valid reasons. Teams can only play who is on their schedule (memo to SEC types: How about letting Florida State into the SEC since they never play anyone? Oh, you won't do that, will you, frauds? So shaddap.) The difference is, Florida State pounds opponents. Ohio State lets glorified Division I-AA teams like Illinois, one of the worst teams in Division-I, rack up 35 points on them. Then Michigan scores 41, one of the worst offenses in the game. Letting garbage teams run up points is what kills Ohio State, not their schedule.
6) So Ohio State should be worried about Michigan State? What, are we talking hoops here? There may be no more overrated team in America than Michigan State. What have they done, exactly? So Sparty is supposed to have a good defense by holding Big Ten teams to low scores? Stop!
7) By the way, you cannot compare, like one Buckeye did, Ohio State's team this year to the team that beat Miami for one of the greatest games in college football history. Back then the Big Ten was a decent conference. Michigan was still Michigan and JoePa was still running a good ship. Barry Alvarez had Wisconsin playing at a superior level. The Big Ten now is a total joke. It's not much better than the MAC. So comparing Ohio State from 2002 to today doesn't wash.
8) Duke is playing in the ACC title game. David Cutcliffe is coach of the year. There's no arguing this. And how stupid was it that Ole Miss fired him? The Rebels have never recovered.
9) Is there still a chance Alabama could get back into the title game? If Auburn and Ohio State both lose this weekend, could Bama jump back up?
10) Mock Joe if you wish, but he will miss the BCS. Yes, really. Some of the greatest games of the past 10 years (Ohio State-Miami, Texas-USC) would have never happened without the BCS. While the BCS had its drawbacks, such as ruining the Orange Bowl, it has been a boon to college football. The game has never been more popular.
11) Oh, Black Friday. Joe cannot figure out why anyone would put up with this nonsense. You couldn't have put a gun to Joe to make him go shopping on Black Friday. Joe did hear one report that a local Toys R' Us was running low on pepper spray by 10 a.m.