49ers Vs. Bucs, Open Thread
December 15th, 2013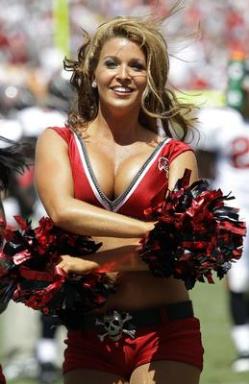 Welcome to (for now) sunny Tampa, where the Bucs host the rugged 49ers in the last home game of the 2013 season. Will it be Bucs commander Greg Schiano's final home game as Bucs coach?
One way to punch his ticket for a return at the helm would be to pull off a monumental upset of the 49ers. As Joe wrote earlier, he simply cannot see that happening short of the Bucs pulling off a pick-six and/or a scoop and score on defense.
Some things to watch: Will Mike Glennon continue his slide or will he bounce back? If Glennon stinks up the joint again, Joe is sure drafting a quarterback is very much on the table ("Hhheeerrreee'sss Johnny!"). Also, can the Bucs 'offensive line man up and prevent the manly 49ers front seven, maybe the best in the business, from harassing Glennon and create running lanes?
Feel free to bang your keyboard here throughout the game. As always, please do not post URLs of illegally streamed broadcasts, but you are welcome to e-mail them among yourselves.
Go Bucs!