49ers 33, Bucs 14
December 15th, 2013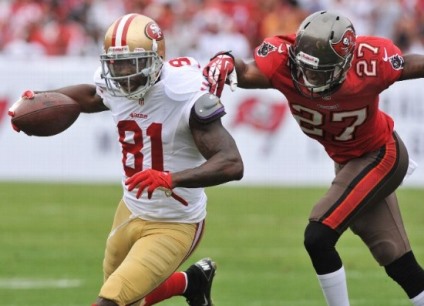 It was a game on the scoreboard in the fourth quarter, but the reality is the Bucs were bullied and worn down by the mighty 49ers today.
The Bucs made plays, plenty of them on defense and flashed some offense, but it was nowhere near enough. That was to be expected.
The Bucs lost in the trenches — again, expected — and got burned by third-down magician Colin Kaepernick far too many times.
They couldn't keep him in the pocket. Darrelle Revis getting manhandled for a big first-half gain by Anquan Boldin didn't help either.
There were bright spots in another stout game by rookie defensive end Will Gholston, and Tim Wright hauled in just about everything thrown his way, including a touchdown. Eric Page found another rookie mistake to ice the game — for the 49ers.
Gerald McCoy coming off the field in the fourth quarter for a breather before the game was out of reach was a most telling sight to Joe. McCoy was gassed, as was the beat up and pounded Bucs defense.