Underwood Talks Freeman, Glennon & Hair
November 26th, 2013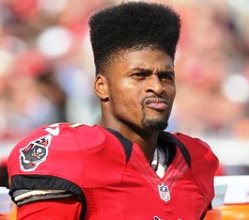 Tiquan Underwood isn't just about the hair. Well, it is much of his intrigue, at least nationally. Underwood's also famous for getting cut from the Patriots 24 hours before he was to suit up in the Super Bowl.
Today, the national Jay Mohr Sports came calling for Underwood, who dove into topics like hair maintenance, that Super Bowl disappointment, the lack of change (yes, lack) in the Bucs locker room, early impressions of Mike Glennon, and the mystery of Josh Freeman.
Underwood said he can't say Glennon looked better than Freeman, citing that he and Vincent Jackson turned in career numbers last year and Freeman "led" the team. Though Underwood did rave about Glennon's work ethic (hmmm.)
Joe's got the full interview below via WDAE-AM 620.