Greg Schiano Speaks
November 27th, 2013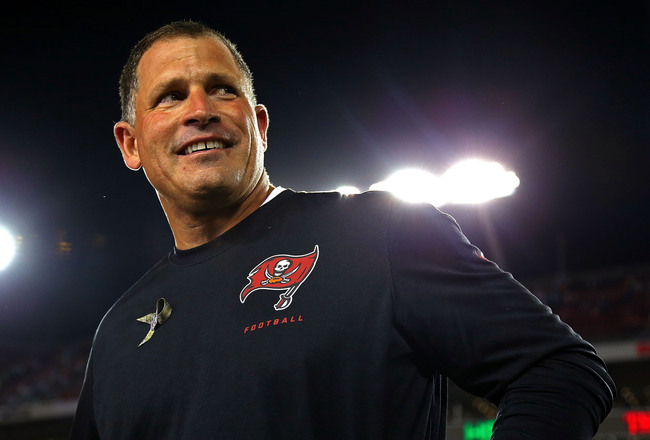 Tuesday, Bucs commander Greg Schiano appeared on "Schein on Sports," hosted by popular sports radio and television personality, Adam Schein, heard exclusively on SiriusXM Radio. Schiano discussed all sorts of topics including the turnaround after starting 0-8, the mess left by former franchise quarterback leaky Rip Van Freeman after he shat the bed, adding weight to Mike Glennon, and how Schiano coped with the loud, public cries for his scalp.
Adam Schein: Joining us right now on the line, friend of the radio program, the head coach of the Tampa Bay Buccaneers, Greg Schiano. Coach, it's Adam Schein, "Schein on Sports," how are you?
Greg Schiano: Fine, Adam, how are you?
Schein: I am outstanding and it is good to have you back on the show, Greg. Obviously, the season did not start off in a positive way but you guys have been on fire recently. From where you sit, what has changed?
Schiano: Well, we have a really strong group of guys in our locker room. They have just stuck with it. I don't think anything has changed that much other than the fact things have kind of just turned. We had a lot of things going on at the beginning of the season and some distractions and injuries. Right now we have a ton of injuries; we have 14 guys on the injured reserve [list]. Somehow this team has stuck together. I think it is because of the leadership. We have some really strong leaders in that locker room and they kept pushing the ball forward and now with a couple of wins, it starts to feel better.
Schein: You talked about leaders on your club. Who do you look to, who do the young kids on the club at moments like at the beginning of the year when you had ups and downs and a lot of negativity swirling, Greg, around the team?
Schiano: Well, when you look at our club, Vincent Jackson on offense and Davin Joseph. Those two guys are just really strong leaders. And on defense, there is Gerald McCoy and Dashon Goldson and Darrelle Revis. Lavonte David, a young guy who is really becoming a strong leader on this team. Those guys have kept everybody together. You know, I think we have a really hard-working football team. They are a come-early/stay-late bunch. One of the things we have been looking for, Adam, is guys who love football. Everything about it. Whether it is hanging around the locker room or being with the fellas, the whole deal and I think we are getting close to having a locker room full of those guys. As I mentioned, we have had some injuries that have set us back a little bit but some young guys, some rookies have really stepped up and taken advantage of the opportunity.
Schein: What does it say about the resolve of this team to deal with the winless start and the 0-8 and to deal with the Doug Martin injury and the other injuries and the drama. What does it say about the heart and the toughness, Greg, about the Tampa Bay Buccaneers.
Schiano: I think it speaks to that. It speaks to the leadership. The guys kept it together. When I say that, I say our players and our assistant coaches. We have good men in this building and we have talented players. We just had as strange of a beginning to a season as I have ever seen on the field and crazy stuff off the field. But because of the leadership and because of the closeness of this team – and one thing about this team going through that adversity I think is the team has grown closer, which is a little strange but that is the kind of team we have.
Schein: Oh, I think if you are a Bucs fan listening to that you could say it is a real good thing to hear, Greg. It's not hyperbole from where you sit. The first couple of games this year, they are just zany. Just zany. Lavonte David with that penalty – and we are talking about one of the best young linebackers and players in this entire league – I mean I thought you had the right tone and the right demeanor after the game where you put your arm around him and you fuel him with confidence. That's one of those [situations] where you had an opportunity, the Bucs had an opportunity, to ultimately win the first game of the year.
Schiano: You know Adam, it was crazy. We had a couple of those games, the New Orleans game early in the year, the Arizona game we were up 10-0. We just found ways, at the end of the game, found ways to lose. It's not been us or a part of teams we have coached but for whatever reason they occurred, it was all part of that adversity we talked about. My hats off to the players. They stuck with the process. They continued to come in every day and do the things we asked, and we asked a lot of them. There was no finger-pointing, none of that. Because of that they have grown closer and now we are starting to see some results.
Schein: You mentioned distractions earlier. The Josh Freeman back-and-forth. How much did that weigh down the Tampa Bay Buccaneers?
Schiano: Well, the whole situation was tough. It was tough for everybody involved. We have kind of moved forward. We are very excited about the young rookie we have playing quarterback in Mike Glennon. He has done an incredible job. He's a rookie and sometimes I forget that because he is so advanced. He grasps things so quickly. The thing he had done the best job of is holding on to the football. He knows when to take chances and when not to. And to me, with rookie quarterbacks, that's the biggest thing. "Let a bad play die." It's hard for an intense competitor to do that until they have burned, and Mike understands that and grasps that. And I think he had some really good coaching at North Carolina State. Dana Bible is a well-known quarterback coach at North Carolina State and as coordinator, and so Mike came here with a real strong foundation and he has worked incredibly hard. First guy in the building and the last to leave. That kind of work ethic and that kind of leadership from a young rookie, he has gained respect from our football team.
Schein: Greg, I asked Mark Dominik this question last week and I am curious to get your take. I love what you are saying about Mike Glennon and I do a quarterback show on CBS Sports Network. Rich Gannon, Phil Simms, Steve Beuerlein all thought that Glennon was the gem in the draft, better than any other quarterback in the draft. They thought he could play right away. Do you have any regrets about not starting him right away, from Week No. 1?
Schiano: You know, I don't. Because, as an organization, we discussed our plan, we had a plan. A plan on how we were going to do things with Josh and we executed the plan. It didn't turn out the way we hoped it would. But we executed the plan and in that time, Mike continued to develop. From the day he signed with us, he has been in this building working his tail off. There is a guy – John McNulty, his position coach who does a great job with him – there is a guy, Dan Orlovsky, our backup quarterback, well-known veteran quarterback. He had done an incredible job of mentoring him, Mike, and teaching him the ways of the league. I think those two guys together have been really special.
Schein: I love the work ethic. I love watching him play. I love how he protects the ball. How good can he be? How good can he be Greg, when he gets a full offseason, when he doesn't have to go through the draft process. It's his team. He can be the leader. How good can Mike Glennon be?
Schiano: I think Mike can be really, really good. I think another thing you can throw in there is when he gets all of his weapons back.
Schein: That's true!
Schiano: Mike is really playing with some of his guys down right now. I'm proud of the guys who are stepping up in their absence. I think you hit it on the head — when he can have an offseason where he can develop physically as well as from a football standpoint. We always joke we have to get him eating more. He's six-foot, seven and every time he takes the field I worry. He looks so lean…
Schein: [laughs]
Schiano: … He's got to get some pounds on him, you know?
Schein: Listen: I watch the Bucs play. Glennon has done such a great job and the team has played so hard. What was it like for you on a personal level? You know, driving by billboards calling for your head. Listening to reports "Greg doesn't have the pulse of the team." You know, I watch the Buccaneers play. I mean, it sure looks like a bunch of guys who love to play football, like playing for Greg Schiano. As a human being, Greg, how do you compartmentalize all of that?
Schiano: Well, I have been doing this for 26 years Adam. You have your highs and you have your lows. It's really not yourself that you worry about in situations like that. You are concerned about your family; you hate to have them see that. But really, they signed up for that too. That's the life they know. I have been a head coach for 13 years. So, the thing that I have always said to our guys is, I am concerned about the 61 players down in that locker room, the coaches in this office, and my owners, my general manager and my owners and making sure they are happy with what they are doing. No one was happy with the losses, I can guarantee you that. I think everybody knows there is a plan in place and we are doing everything in our power to execute the plan. We have good people here, as I said earlier. We just have to stick to it. It is starting to show. We truly believe that you reap what you sow. We think some good things will be coming in the future.
Schein: What did you learn about the guys on your team when everyone was dealing with adversity because there could have been moments where people gave up. There could have been finger-pointing. There was none of that in Tampa Bay. And now as you phrased it, everyone is reaping what they sow. What did you learn about the men that you coach?
Schiano: I knew it. I knew it by going through some other things we had with them. These are special men. Men of character. We added some guys in the offseason. Guys like Dashon Goldson coming to the team from San Francisco, just a really strong leader and a great teammate. Great guy to coach. Same with Darrelle Revis. Darrelle, there is probably not a bigger star in this league. He comes in here and works his rear end off. Been very unselfish and a good teammate and a fun guy to coach. So, we have, as I mentioned, a bunch of great leaders and I think some very special players. A guy like Gerald McCoy, I don't think there is a better defensive tackle in this league. Probably not a better person, either. That's what makes him so special. But we have guys like that in this building and I think that will lend well in the future.
Schein: Do you ever sit down with the owners or with Mark about your future or are you pretty secure? Personally, I think you should be because you guys are moving in the right direction.
Schiano: We talk about a lot of things but I really don't like to go there. I understand what this league is about. This league is about winning. It is a performance-based league. That's what they hired me to do. I have no mistake about that. I believe we are heading in the right direction. What I tell our coaches is what I tell our players and I tell myself: Come here in the morning, do the very best that you can, and then go home and fall asleep. You should have no trouble falling asleep if you do the best you can. That is what we kind of built this thing on.
Schein: Greg, great stuff. We appreciate the time. Really happy to see you turn things around in Tampa Bay. Looking forward to you and Mike Glennon working together for a full season next year. Happy Thanksgiving to you and your family. We'll talk again real soon.
Schiano: Well thanks Adam. You have a great Thanksgiving.
Schein: Greg Schiano, head coach, Tampa Bay Buccaneers.