Offensive Player Of The Week
November 4th, 2013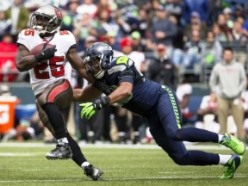 It was one of the finest performances Joe has seen from a Bucs player in a long time. Rookie running back Mike James pounding his way through the Seahawks defense and, playing Steve Alford, hit a short jump shot to Tom Crabtree for a touchdown pass.
James' one-man gang of a game did not escape the watchful gaze of olive oil-lapping, popcorn-munching, coffee-slurping, fried-chicken-eating, oatmeal-loving, circle-jerking, beer-chugging, cricket-watching, scone-loathing, college football-naïve,baseball box score-reading Peter King, of Sports Illustrated and NBC Sports fame, who knighted James with his "Offensive Player of the Week" honor, as detailed in King's must-read "Monday Morning Quarterback" column on theMMQB.com.
Mike James, running back, Tampa Bay. Drafted in the sixth round last April by the Bucs after a part-time starting career at the University of Miami, James, in his seventh NFL game, had the best day of any back in football Sunday: 28 carries, 158 yards, 5.6 yards per rush … in Seattle, against a team that had been respectable in run defense. By quarters: 37, 45, 58, 16, and two yards rushing in OT. But it was James' touchdown pass—the play of the day in the NFL, in my opinion—that made him a lock here. He threw a Tebow-esque two-yard jump-pass touchdown to Tom Crabtree to give the Bucs a 21-0 lead in the second quarter.
A sixth-round draft pick? Why, Joe has never heard of such a thing. Damn, that Bucs rock star general manager Mark Dominik! What a scoundrel!
Joe will ask again: How in the world (or who?) did the Bucs pull the plug on easily their best offensive weapon yesterday when the Bucs had the Seahawks on the ropes in the fourth quarter? A guy runs for 158 yards and doesn't touch the ball in the final seven minutes of a close game? In what world?
Joe is confident Team Glazer is asking that same question under their breath today. It is a question with no logical answer.