Has Mark Barron Arrived?
November 3rd, 2013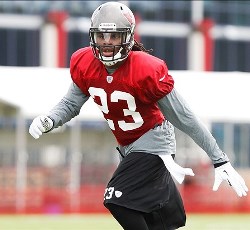 Yes, Lavonte David racked up double-digit tackles (again) today (11). He does this on such a regular basis, Bucs fans almost have come to expect this from the second-year linebacker from Nebraska.
The other Bucs defender who recorded double-digit tackles was safety Mark Barron.
Barron, another second-year player out of Alabama, has played better this year. It's not like his rookie season was awful. He played strong against the run but was largely drafted to shut down the strong tight ends in the NFC South like Jimmy Graham, Greg Olson and Anthony Gonzalez. For Barron, that largely has not happened.
But Barron is far, far, far from a bust, thought in many eyes, he has not yet lived up to expectations. Today may have been a turning point.
In addition to his double-digit tackles (11), Barron recorded his second interception of the season, which leads the Bucs (which, if you factor in the talent on the Bucs secondary, is a pathetic stat through eight games).
For Barron to begin living up to his draft selection, he still must improve defending dangerous tight ends over the middle. As far as the run goes, Barron is already pretty good.