Dominik Decisions On Display
November 3rd, 2013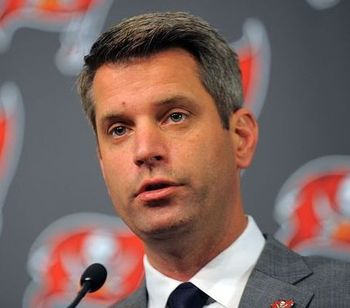 The pre-lockout NFL Draft of 2010 was considered by many to be the deepest in NFL history.
There were two receivers snatched in the second round. First, the Bucs traded up to draft Arrelious Benn. And 21 picks later, the Seahawks picked Bucs killer Golden Tate, whose ferocious punt return today was a dagger that buried the Bucs. Tate, 25, has had a nice career. Benn, well, he hasn't.
It's easy to play hindsight GM and bury rockstar general manager Mark Dominik in a case like this. Dominik went on to draft Myron Lewis in the third round and Mike Williams in the fourth that year.
There was also another Dominik decision on display today, when Michael Bennett manhandled Demar Dotson to register a key sack of Mike Glennon in the fourth quarter. Bennett's got 5 1/2 sacks this season. Da'Quan Bowers is taking notes awaiting his first. On the flip side, Dominik's 11th-hour trading of LeGarrette Blount gave the Bucs a draft pick used to trade up to grab Mike James in the sixth round this year.
Regardless, look at the Bucs' play today, and it was extraordinarily clear that the team had enough talent to beat the best team in the NFC on their home turf. And it's Dominik's job to stock the team with talent.
The Bucs' offensive line won in the trenches, and rookies Mike Glennon and James (both backups entering the season) were strong. The Bucs' defense has playmakers but can't make enough plays and almost always seems to have the wrong scheme when it matters most. The Bucs were outcoached again, playing not to lose in the second half and scoring three points.
Is that on Dominik? It's a question Team Glazer will be asking after the season.