Bucs: "A++++"
November 26th, 2013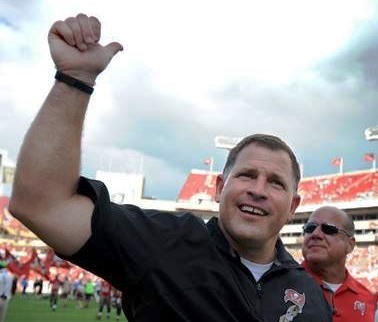 How impressive was the Bucs' win over NFC North division-leading Detroit this past weekend? Big. Aside from the local reasons, it registered with national media types as well, which for reasons unknown to Joe, Bucs fans are fixated on.
Popular sports radio and television personality Adam Schein yesterday, both on his SiriusXM Radio Show "Schein on Sports," and his Monday evening TV Show, "NFL Monday Quarterback, seen on the CBS Sports Network, was all over the Bucs and quarterback Mike Glennon. In a good way.
The win over the Lions also caught the attention of long-time NFL writer Mike Freeman, who now types for Bleacher Report. Let's just say Freeman, in his weekly NFL grades, seems to be won over by the turnaround orchestrated by the New Schiano Order.
The rare A++++ designation goes to Tampa. The Buccaneers have fought back from 0-8 to win three straight. They thoroughly outplayed and out-coached the Lions. They also outsmarted them. Greg Schiano has taken a sonic screwdriver to this team.
Joe feels all the vibes from giddy fans. It's fun to watch and follow the Bucs again. It's just amazing how things changed in a month.
Just five weeks ago, billboards graced the Tampa Bay area wanting Bucs commander Greg Schiano launched. Some fans wanted Schiano lynched. It was ugly.
Now, Schiano seemingly has not just resurrected his career, but turned around his team and appears to be developing a quarterback.