Anointing Glennon Means Keeping Sullivan
November 26th, 2013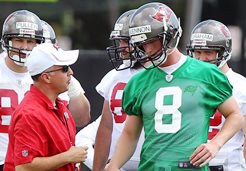 Joe understands there are Bucs fans ready right now to knight rookie quarterback Mike Glennon as the new franchise quarterback. Joe loved how Glennon played Sunday (sans that terrible sack he took which all but dragged the Bucs out of field goal range — has Rian Lindell been cut yet?). If Glennon can just show Joe a consistent ability to stretch the defense like he did when he hooked up with Tiquan Underwood and Vincent Jackson Sunday, then Joe is sold.
It seems, however, the bandwagon is already rolling downhill.
Now if the Bucs decide to keep Glennon as the starter in 2014 (which pretty much means that Bucs commander Greg Schiano will return), then it is simply a must to have Mike Sullivan back at offensive coordinator.
Glennon is still a young player with a lot to learn. What is the best way to screw up a young quarterback's head? Bring in a new offensive coordinator with a new offense.
If Schiano doesn't come back, then Joe is adamant that the Bucs hire an offensive coordinator (Greg Roman) as head coach, so the next franchise quarterback ("Hhheeerrr'sss… Johnny!") will learn and run the same offense for a few consecutive years.
If the suits at One Buc Palace are convinced Glennon can be the man, then Schiano should return and, thus, Sullivan must return. And that sparks the question, will Sullivan run looking for his own head coaching job in five weeks, like he did last year?