If Schiano Stays, Glennon's The Man
November 26th, 2013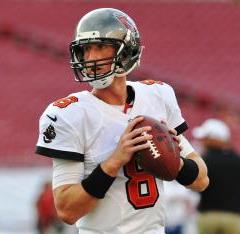 In a not-too surprising thought, Bucs commander Greg Schiano, if he is to survive and return for the 2014 season — and the arrow is trending towards a return — implied there is little need for the Bucs to entertain drafting a quarterback, types Rick Stroud of the Tampa Bay Times.
Because the Bucs will have a franchise quarterback already on the roster and his name is Mike Glennon.
"I know this about Mike: He is a rookie quarterback for sure and there are still some rookie things he says and does that makes you realize, oh, yeah, this guy is a rookie," Schiano said. "But I think he has accelerated his progress since the day he got here by how hard he's prepared and worked. And if there's such a thing, I think he's taken a rookie season and condensed it into eight or so games if that makes sense because he's playing at a higher level that you would expect as a rookie."

The Bucs have won three games in a row after an 0-8 start. Glennon has thrown at least one touchdown pass in eight straight games, the longest streak by a rookie since the Seahawks' Russell Wilson did it in nine straight in 2012.

"And the things that are hard for rookies is to let a bad play die," Schiano said. "Don't get greedy. That's what Mike does the best job of. In six games, he's thrown on interception. He's now thrown the ball down the field with more confidence, because he's always been able to do it. Just pulling the trigger. That is the development and maturation of a quarterback and I think we're all seeing it right in front of our eyes."
Now one could make the argument it would be irresponsible for the Bucs not to take a quarterback in one of the deepest quarterback drafts Joe can remember. From the day Schiano benched and subsequently threw leaky Rip Van Freeman off the team, Glennon was his guy.
The only question was if Schiano was Team Glazer's guy. With the very real possibility Schiano may weather the storm and return for 2014, it's not a shock that, barring injury or a complete and total Freeman-like meltdown, that Glennon will be your Bucs starting quarterback in 2014.
MG8 sure hasn't played himself out of a job; that's for sure.
Now if Joe were Bucs rock star general manager Mark Dominik, just for a good investment, Joe would take a flier on Aaron Murray on the third day of the draft. Murray, who blew out his knee Saturday, won't be able to participate in any pre-draft festivities, such as the combine, pro day or a private workout. So his draft stock will completely plummet, as he likely won't be able to take a snap until the 2014 NFL season has already begun.
Not saying Murray is the answer, but he will be a helluva sound investment for any team that drafts him. Stinks for Murray, but great for some NFL team.