The Schiano Kneel-Down
October 30th, 2013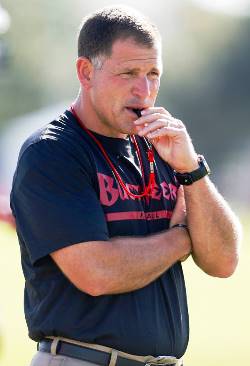 Days after going on a long and wonderful rant against Bucs commander Greg Schiano's world renowned kneel-down play to end games when opponents have the ball in the waning seconds of yet another Bucs loss, the one and only Chris "Mad Dog" Russo was still irritated about what he still believes was a Schiano Kneel-Down against the Dixie Chicks that didn't take place.
eye-RAH! Kaufman of The Tampa Tribune, the Custodian of Canton, was ambushed by Russo with another jab at the Schiano trademark during his weekly appearance with Russo, via the channel that bears his name, Mad Dog Radio, heard exclusively on SiriusXM Radio.
Chris "Mad Dog" Russo: Doesn't he learn his lesson? Doesn't he go out there and try to do the same thing to the Falcons as he did to the Giants last year with the crashing into the offensive line when the game was over? Go ahead.

eye-RAH! Kaufman: Chris, he also did it in the Arizona game. He did it at the end of the Arizona game which was a game at Raymond James. So he has done it three times now. He's not going to change, Chris. I think it is a bad idea. I've heard you've been railing against him. Chris, he doesn't need you, he is getting enough criticism from all corners. He doesn't need the "Mad Dog" weighing in. Here is why it is a bad idea: He will stand there at the podium and say, "Well, if my players came up to me and tell me they didn't want to do it I would stop doing it." Chris, that is weak because no player is going to do that, Chris. They are not going to do that. But when you talk to them privately, Chris, and I have, there are some people in that locker room who are not very happy doing that. They don't want to do that, Chris. They think it is bush league. They think it is below them. But they are not going to march into Schiano's office, Chris. That's not going to happen. So, you know, I think it is another chip away at his credibility with this team and that is a key factor for him right now. He is a college coach who hasn't established himself as a winner, Chris and on top of it he has an [0-7] team. That's a bad formula.
This is just another example of a well-meaning but stubborn coach who won't change his ways, no matter how much flak he gets from colleagues and in some circumstances, no matter how many losses pile up.
When the Bucs hire a new coach for the 2014 season, the Greg Schiano Era will best be remembered, aside from the mounting losses, for the Schiano Kneel-Down.