"Biggest Flop"
October 30th, 2013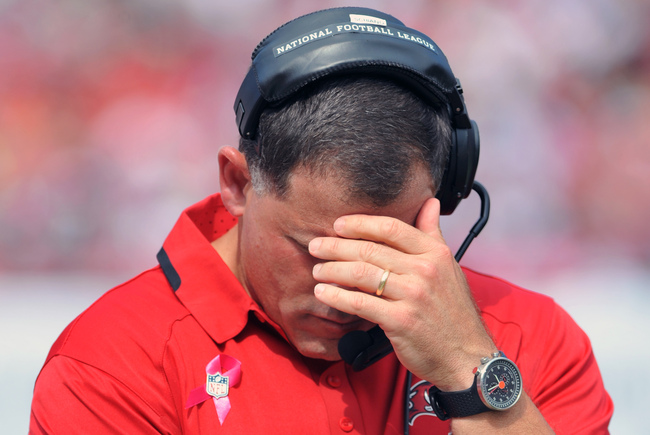 The house organ of the NFL, NFL.com, is all awash in midseason reports — best players at midseason, best teams, you name it.
Well, one category is biggest disappointment. And while many NFL.com types point to the Eagles, the Steelers, the Giants, etc., as the biggest disappointments of the 2013, there is a special place for the Bucs.
Judy Battista of NFL.com points a finger directly at Bucs commander Greg Schiano and the Pewter Pirates as this season's "biggest flop."
That leaves the winless Tampa Bay Buccaneers as the biggest flop of all. They spent two offseasons loading up on free agents, and they traded for Darrelle Revis to help rebuild the secondary. But then they made the wrong bet on the starting quarterback and made Revis play zone rather than his preferred man defense. On top of all that, they were beset by myriad unsavory issues, from the MRSA infestation to leaks about Josh Freeman's behavior. For a team that hoped to contend for a playoff spot, the Bucs — who are hearing calls for coach Greg Schiano's job at the halfway point — are in a startling predicament, making them the worst disappointment of the season.
But to hear some Bucs fans, it is not Schiano who is complicit in the downfall of the Bucs, but rather, rock star general manager Mark Dominik.
To hear these same fans, it was Dominik who planted MRSA in the Bucs locker room. It was Dominik who turned Freeman into a Buccaneers version of Benedict Arnold and motivated him to get all leaky (notice the drama as just about died down since Freeman left? Imagine?), it was Dominik that gave Carl Nicks a turf toe, it was Dominik that tore up Davin Joseph's knee, it was Dominik, after he traded for Revis, who kept kicking him in the back of the knee which prevented him from playing man-to-man so much in the first place, it was Dominik who ran off productive players who are excelling for good teams now, and it was Dominik who nearly ran Doug Martin into the ground.
Next thing you know, the haters will try to convince you Dominik is responsible for the Ebola virus. This blind, misplaced rage saddens Joe.